As we continue to work our way through the lockdown and the uncertainty remains, unfortunately, as a nation, we cannot be sure when we can finally return to normality. In the meantime, our everyday lives must be put on hold, which means that there will be no beauty appointments, shopping trips or bottomless brunches for quite some time! If you are one of our lovely clients who have their extensions fitted, then you may be worried about how you can keep your locks intact and ensure that your natural hair does not become damaged. So, to ensure that you feel confident in your hair extension care until we can finally be reunited, we have put together our top tips on how to look after your extensions during the lockdown.
A Lacy Locks Guide To Hair Extension Care
A pandemic is something that none of us could have anticipated, which means that even we couldn't have predicted that it may be up to months before we can see all of your gorgeous faces again! While not being able to visit us for your maintenance appointments is frustrating, it is important that you continue to care for your extensions, and most importantly, yourselves, over the next few weeks so we can pick up where we left off post-quarantine.
By now, we can just imagine how outgrown your hair extensions must be becoming, but this most definitely doesn't mean that you cannot keep them looking and feeling flawless. There will be no need to dramatically change or spend hours on your hair routine, just a few small updates to accommodate the additional growth. So, without further ado, let's get into our hair extension care tips – the lockdown edition!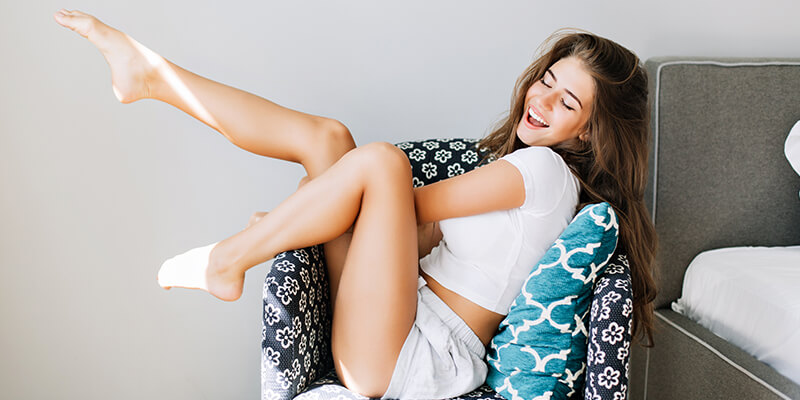 During the night as we sleep, it is inevitable that we will toss and turn, which can have a negative impact on your hair extensions. Particularly when your extensions become loose, moving in your sleep can begin to pull on the bonds, along with your root, which can cause them to become tangled. To prevent this, all you will need to do is ensure that you loosely tie your hair back before you go to sleep at night – this also applies if you take a sneaky nap in the afternoon while binge-watching your favourite show!
There are many different ways that you can keep your hair tangle-free while you sleep and prevent matting. If you want something quick and easy, then tieing your extensions in a loose, low ponytail could be absolutely perfect. We suggest using a softer hairband such as a fabric scrunchie because this will avoid any breakages. However, an even better way to care for your hair during the night is to plait it loosely. Plaiting hair is something that not all of us may have mastered yet, but is in fact, super straightforward to pick up. Here is an easy step-by-step guide for you to follow:
Start by gently brushing your hair, making sure that there are no knots.
Separate your hair into two using your parting and tie one side out of the way.
On the other side, split the hair into three even sections and hold between your hands.
Beginning with the section in your left hand, bring the hair into the middle over your middle section of hair. Hold in place.
Now with the right-hand section of hair, bring this over into the middle and hold.
Keep repeating this, coming from the left and then from the right until you get to the end of the hair.
Tie the hair in place then repeat with the other side of hair – and, voila!
Being indoors most of the time gives you the perfect opportunity to ease your way out of overwashing your hair. If possible, aim only to wash your hair extensions once a week and no more than this. This will not only stop your hair extensions from drying out, but it'll also do your scalp a world of good!
Your scalp naturally produces oil to keep it hydrated, and while when this builds-up, it causes your hair to become greasy, without this natural oil, your scalp will become super dry and dehydrated. Many of us have become guilty of washing our hair the moment that it gets greasy. However, the more you wash your hair, the quicker it will get to this state because your scalp is continually tying to renourish itself before it is stripped away again. Washing your hair and extensions only once a week will ensure that you maintain the perfect balance between fresh hair but still with plenty of natural oily goodness. In fact, you will actually begin to train your hair into taking longer to become greasy and what better time to do this than when you won't be facing the public for a few months!
When you do come to washing your hair, be sure to focus your shampoo on the roots and the conditioner on the middle to ends. Conditioner is filled with oils, which while this is perfect for stopping your extensions from becoming dry, can cause the bonds to slip. It is for this reason that we always say to avoid putting any conditioner near the roots.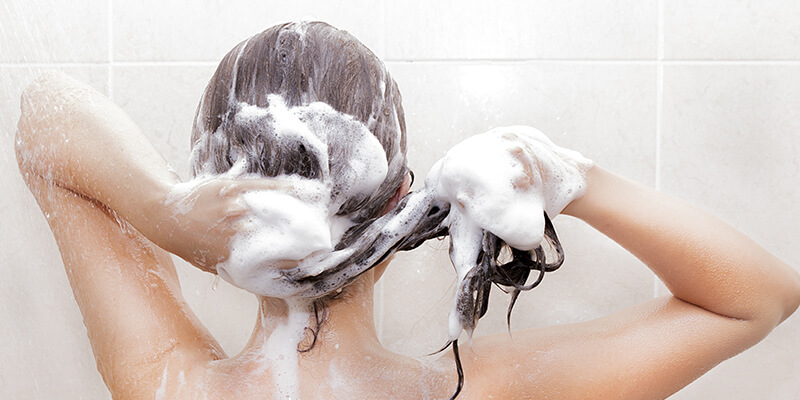 Although it may be so tempting to play around with the rings, bonds, weave or tape on your hair extensions when they begin to grow out, it is important to steer clear from doing this. Leaving your extensions alone to outgrow will help towards keeping both the extensions in good condition and your natural hair healthy. Playing with them, on the other hand, is likely to cause the extensions to begin falling out, which means that your hair will be uneven for the remainder of the lockdown. You also risk unintentionally putting tension on your roots, damaging your natural locks.
If you are one of our lovely clients and have started to lose any of your hair extension strands, please keep these safe until you are able to revisit us for an appointment. Whether you have nano ring hair extensions in Luton or micro ring hair extensions in Northampton, we will be able to refit these strands for you!
As your hair extensions begin to grow out, they become more prone to tangling and matting around the bonds because they will no longer be at the root. Usually, these would be repositioned during your maintenance appointment back up towards the scalp, preventing them from knotting. However, as it will be quite some time before you can do this, you will need to ensure that you keep your extensions separated. To do this, gently run your fingers through the underneath of your extensions. If you do have a weave in or any tape extensions, make sure that you also pick up the rows and separate the hair that sits between the rows to prevent matting. In doing this, not only will it be easier to manage your outgrown extensions but it also means that the strands will be in a good enough condition to reuse when you can eventually book in for a maintenance appointment.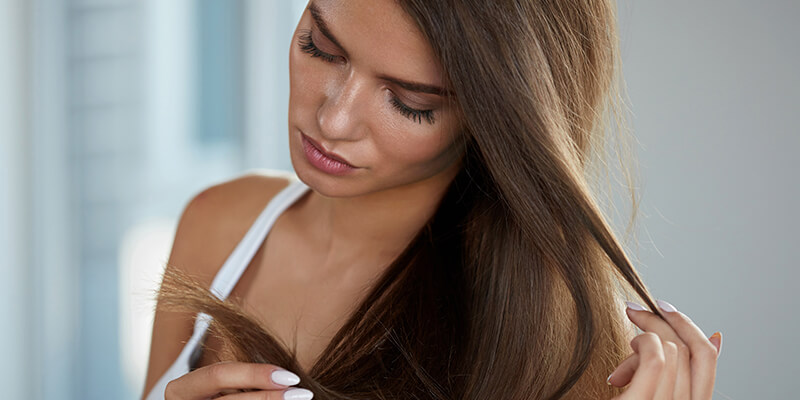 There is no such thing as brushing your hair too many times when having extensions fitted, but what is vital is the technique that you use. You want to ensure that your hair can be thoroughly freed from any tangling without pulling on the root and bonds. To do this, when brushing, always hold onto the lengths and the ends, then brush starting from the bottom and working your way up. Once the lengths of your hair have been brushed, you can then gently run the brush through the top.
You should always take particular care brushing when your hair is wet because it becomes weaker. In the past, you have probably noticed that, when detangling knots in wet hair, the hair has more elasticity and stretches, which makes it more prone to damage. To prevent breakages, again, brush from the bottom and work your way up but take your time to avoid tugging on the root. If you have opted for washing your hair before bed, always ensure that the extensions are completely dry before going to sleep. Sleeping with wet extensions is always a huge no-no because you will wake up with tangling and matting, which will be impossible to resolve if you cannot visit for your maintenance appointments.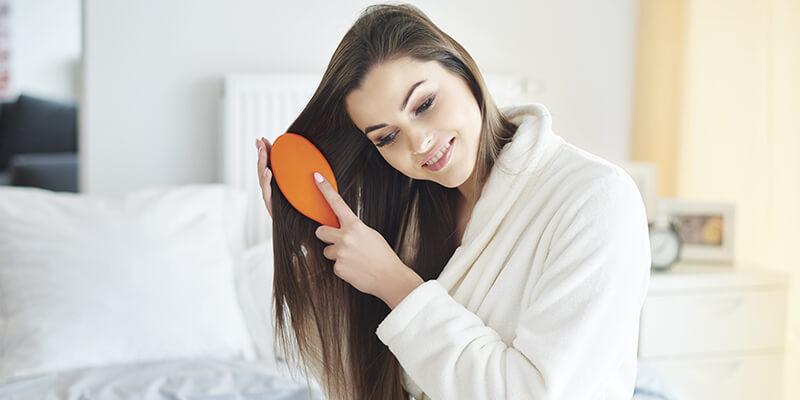 To go hand-in-hand with our above hair brushing tip, we thought it was also important to advise you on the best type of brush to use. Regardless of whether your extensions are dry or wet, a soft bristle brush will always be the best option. You can pick up soft bristle brush from all hair and beauty retailers, but we would personally recommend ordering a Tangle Teezer. Tangle Teezer's are designed with flexible teeth, which allow you to thoroughly brush through the hair without pulling or tugging. Any brushes with balls at the ends of the bristles can easily catch on rings, bonds, tape or weave as they begin to grow out, so be sure to avoid this kind of brush.
Our last tip is to use this lockdown period to your advantage through nourishing your hair with conditioner and oil. As there will be less need to leave the house or wash your hair, you can really allow your extensions to feel the full benefit of nourishing products. This will help to not only keep your natural hair healthy but also give your extensions are gorgeous shine, making them super smooth ready for when you can revisit Lacy Locks. However, when using any products aside from shampoo, be sure only to use these on the lengths and ends of your extensions, not the root. Much like we mentioned above, applying products too near to the bonds will cause them to begin slipping, eventually falling out.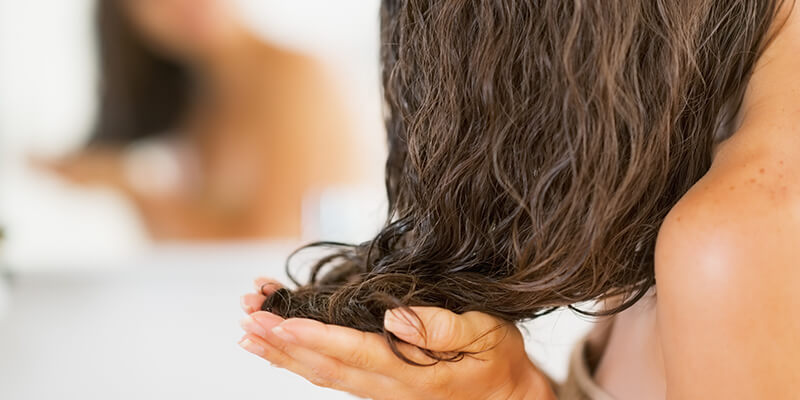 Maintaining Your Luscious Lockdown Locks!
Keeping your extensions looking and feeling amazing during the lockdown needn't be a tedious task. Through simply taking a little extra time to care for the outgrown strands, you can ensure that your hair stays healthy over the next few weeks. Again, if you do notice that any strands are falling out, keep hold of these until we are reunited. While we would always recommend not attempting to remove your own hair extensions, if you do have to, please contact us, and we can schedule a FaceTime call to walk you through the process.
In the meantime, we hope that you all stay safe and we cannot wait to start fitting you all with hair extensions in Milton Keynes and the surrounding areas again!