Everyone has a go-to summer hairstyle, whether it be an updo or a cute bob with curls, anything that will look good and keeps your hair off your face is a must-have. However, unless you're as committed as Ariana Grande with her signature ponytail, then the likelihood is that you're going to get very bored of the same hairstyle every day for work and nights out with the girls. But don't you worry, we have you covered with these easy hairstyles to do at home, so you don't get overheated trying to tame your mane and can go out looking fabulous in under five minutes!
Easy Hairstyles To Do At Home: A Newbies Guide
Just because a hairstyle is easy, doesn't mean that it can't look as though it took you hours to do! There are plenty of ways in which you can create your favourite looks at home with ease, all it takes is a little practice and patience to achieve. Once you get the hang of your favourite looks, then it can take you just seconds to do you hair in the mornings – you can even attempt to beat Sarah Hines record of 8 ponytails in 30 seconds!
Before you go off setting records, you may want to tackle the technique to mastering the perfect easy hairstyle. Here are three different popular hair styles, of which we will run through the different techiques to achieve different looks: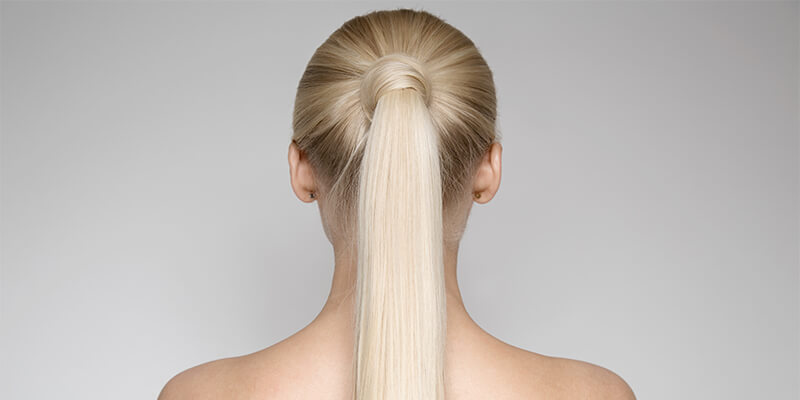 Ponytails
If you're looking for a hairstyle that sounds simple but actually offers chic and sassiness to any outfit, then a ponytail is going to be your go-to hairstyle. Ponytails have seen a massive rise in popularity in recent years, with celebrities such as Kim Kardashian-West and JLo having extensions fitted to give us those hair goals. Even if you just love ponytails and wouldn't even dream of having your hair in any other style, there are so many different ways that you can change things up depending on the occasion and your outfit. Why not give some of these easy to do ponytail tricks a go:
Bouffant Low Pony
We're feeling a real 60's vibe with these bouffant hairstyles, and we don't know about you, but we LOVE them! They can add so much volume and texture to your hair, and they're super easy to create. To start any ponytail hairstyle, we would always recommend popping in your hair extensions or speaking to the team about having hair extensions in Milton Keynes and the surrounding areas. While most hairstyles will look super sassy or cute with long and short hair, ponytails tend to capture the full effect when your hair is a little longer. Not only this, but the extensions will help to add volume to your hair, making this particular ponytail easier to create!
To start this look, brush all of your hair back, ensuring that there is no parting, but also leaving out your fringe if you have one. Using a fine-tooth comb, gently backcomb a section taken from the top of your head, but do not push the comb all the way to your scalp, as this can cause some major tangling! To make sure you're backcombing properly and safely, take a look at Milk and Blush's handy guide. Once you have done this, clip the backcombed section so that it is out of the way, and grab a clear hairband. Tie the bottom section of your hair into a ponytail about 3 inches from the hairline on your neck. Once this is secure, you can either take the top section and wrap it around the ponytail, securing with a bobby pin, or grab another clear hairband and incorporate it into the ponytail. Whichever way you choose, once completed, gently pull on the top section to create as much bouffant as you wish!
Top tip for hair extensions: If you have only half a head of extensions on the lower part of your hair, causing the top half to be slightly thinner, then you can always place the ponytail in a thin scrunchie the colour of your hair and wrap the top section to cover the scrunchy. By doing this, it will make the hair wrapped around the ponytail look thicker.
Sleek High Pony
The sleek back look can be created in so many ways, whether it be a ponytail or sleeked behind the ears, and to make this style even better, it's perfect for when your hair has got a little greasy, but you can't be asked to wash it! We would recommend using this hairstyle the day before you plan washing your luscious locks; otherwise, you may be stuck with the same style for a few days running until the next hair wash day. The great thing about the sleek back hair is that you can wear it as a low pony or a high pony. Usually, a low pony is best suited to those with slimline faces and a pointed chin, whereas, a high pony is perfect for those with rounder faces as it accentuates your features and makes your face seem longer than it is.
To achieve this look, you will need a hairdryer, some hair spray, a hairband and light gel for those annoying flyaways. Start by blow-drying your hair back in the direction of the ponytail; this will make it more comfortable for the ponytail to sit on your head. Brush all of your hair into your hand and hold it where you wish the ponytail to be placed. Once the hair is all pulled back, secure with a hairband and pull on the ponytail to make tighter. Using the light gel and a bristle brush (or toothbrush if you don't have one), pull back all of your flyaways until you have a slick look. Hold the hair with some hairspray and ta-dah, you look like a Roman goddess.
Top tip for hair extensions: This look works best with hair extensions if you are to create a high ponytail. Be sure to thoroughly brush out the extensions before creating this look, as you want the ponytail to look just as sleek the rest of the hair style. Apply a pea-size amount of argan oil to the ponytail and brush out for an extra sleek look.
Buns
Are we right in saying that one of the most annoying things is when you put your hair into a bun before going to bed and it looks flawless, yet when you try to recreate the look in the morning you end up looking like Miss Trunchable? Well, we've all been there, and unfortunately, we will go there again at some point when we really don't have the time for it!
Luckily, there are a few ways that you can minimise this dreaded scenario happening, and knowing which bun is best for fresh or greasy hair can help you avoid those bad hair days and screaming at the mirror. Here is how to create the perfect, easy top knot and messy bun:
Top Knot
A top knot tends to be sleeked back and big on the top, which makes it perfect for greasy hair days. When you have your stunning LA Weave hair extensions in Buckingham fitted, a top knot is ideal to ensure that the weight of the hair doesn't pull on your scalp; this is why reality TV stars such as Molly-Mae always have a super high top knot!
While it may look like you need to intertwine your hair for hours to form your top knot creation, it is a lot easier to create than you may think, and it is one of the most popular hairstyles for those aiming to grow their hair or hide their extension growth during lockdown. So, how do you do this magical top knot, you ask? Well, you first need to make sure that you have the following products:
Hairband
Bobby Pins
Hairspray
For the first step, sprits in some of your texturising spray, trying to avoid the roots of your hair. This will give you a little bit of grit on the ends of your hair to make it look thicker when in the bun. Brush your hair before pulling it all into a ponytail on top of your head and tie into your hairband. If you have placed the hair too low, then you can pull on the top section of the ponytail to move it higher.
Now, there are three ways you can do the next section, so let's go through them all:
Multiple-sections – take strands of hair and wrap it around the ponytail, securing with a bobby pin and gently pulling on the strand to loosen. Continue this step taking strands at a time until all your hair is up.
One section – with one hand, hold the end of your ponytail and start wrapping it around the top of the ponytail. As you go, hold the top of the bun with your other hand to keep it in place as you wrap. Secure the hair in multiple places.
Braiding – once the hair is in a ponytail, loosely braid the ponytail and pull on the braid if you need to make it looser. Keeping hold of the bottom of the braid, follow the same method as the one section technique.
Whichever method you find easiest, be sure to complete the look with some hairspray to hold it in place all day long!
Top tip for hair extensions: if you have clip-in extensions, it is best to place them around the crown area of your scalp, or as close to where you are going to place your bun as possible. By doing this, it is less likely that the extension clips will show, and it will also avoid the bun pulling.
Messy Bun
One hairstyle that is a little harder to create with longer hair, but is definitely worth the practice, is a messy bun. The amazing thing about a messy bun is that you can sling your hair up without much effort, as after all, the messier, the better, right? Once you have the technique down, this will most definitely be your go-to hairstyle every morning, especially when you don't have much time on your hands before rushing out.
To create this look, you first need to brush through your hair and then sprits in some volumising spray. Taking a comb, gently backcomb your hair at the ends to give a light and fluffy effect. Pull all of your hair into a ponytail on the crown of your head, and then gently pull on the hair to loosen. Now, you are going to follow the same technique as the top knot, but grabbing the end of the ponytail and wrapping it around the head of the ponytail; however, you don't need to place your hand around the top as you want it to look messy! Once you have done this, secure with a hairband and pin down any bits of hair that have gone a little too wild.
Top tip for hair extensions: instead of backcombing your luscious locks, we would recommend spraying in some heat protector and gently curling the ends of your hair; this will give a stunning messy look when in a bun. Take a look at our easy curling tips below!
Easy Curls
Whether you're chilling at home, creating beach waves or going out for the night, curling your hair instantly makes you feel sassed up and ready to have a good time. There are a few ways that you can curl your hair, and not all of them require you to apply heat. Why not spend some time getting to know these easy curling techniques!
Overnight Curls
For those of you that have heat damaged hair but still want to create those luscious curls, overnight curls are going to be your go-to method. While they may take a little bit of extra time in the evening, it will take merely seconds in the morning for you to feel fabulous with your curls. There are two different products that you can use for this technique, but they both follow the same method. You will need either flexible rollers or some socks for these stunning overnight curls.
Firstly, you will need to brush out your hair and then spray in some sea salt spray or dampen with some water; you don't want your hair to be too wet otherwise it won't be able to dry overnight. Begin with the top half of your hair by taking sections and wrapping it around the sock or roller; to secure, either tie the sock or cross over the roller. Complete this step with the rest of your hair until it is all up, and then head off for some beauty sleep. In the morning, remove the sock or rollers starting from the bottom of your head and working your way up. Once removed, either run your fingers through your hair, or for looser curls gently brush out.
Top tip for hair extensions: for those with extensions, or naturally long hair, we would recommend placing the sock or roller at the ends of your hair and go about two thirds up before securing. Then, grab a scrunchy and put your hair into a ponytail. By doing this, you can get luscious curls with added volume on top.
Curling With Heated Tools
Curlers or straighteners are by far the easiest way to curl your hair, and takes only a few minutes when you have the technique down. There are multiple different ways that you can curl your hair using heated appliances, such as some of those in the video below. However, seeing as there are so many, we're going to go through the method for what we think is the easiest way to curl your hair!
All you will need to do is place your hair into a high ponytail; we would recommend using a scrunchy to avoid that dreaded hairband kink! Using either a curling wand or straighteners, take a section of your hair and curl from about halfway up. Once you have curled all of your hair, remove the scrunchy and run your fingers through the curls to loosen or for beachy waves, brush through gently. Then, all you need to do is sprits in some hairspray, and you're ready for the day ahead!
Top tip for hair extensions: your hair extensions are just as sensitive as your natural hair, so applying heat protector is a must. To avoid damaging your extensions, always keep your heated appliances at a low temperature of around 170c. You will be able to achieve just as much of a defined curl as you would using a higher temperature, just with less chance of damage.
Being Flawless Is Really That Easy
Creating your favourite looks is a lot easier than you may have imagined, and even better, most of them only take a few minutes to achieve! Whether you're a hair up girl or a beach wave babe, there are so many different ways you can create stunning looks rather than reverting back to the same signature hairstyle. If you're finding it a little tricky to complete the looks above, then you may need a little pamper and book in for a hair cut to remove a little bit of weight at the ends of your hair. For more tips or to book in for hairstyling, colouring or cutting, please feel free to contact our hairdressers in Milton Keynes and our hairdressers in Bedford!