Ever had a bad hair day and wondered why those stray strands just won't behave themselves? You'll be pleased to know that there is a very specific reason, and solution, to your hair drama. If you love adding a blond tint to your hair or can't leave the house without creating those effortless curls with your heated tools, then you've probably done a fair bit of damage to your hair. While you may not think that you're harming those luscious locks, overtime, your hair strands start to fight back and cause you hassle in the hopes you'll notice and cut back on all those damaging products and styling. Luckily, there are numerous ways in which you are able to tame those strands and create beautiful healthy hair!
Changing Habits For Beautiful Healthy Hair
Genetics can play a role in the texture of your hair, so some of us girlies find creating that slick look a little more challenging than others. However, there are now a multitude of hair tips and products that can help us to achieve shiny – not greasy – luscious locks to make all the girls jealous. It is important to make sure that you try out a few different products and methods to make sure that it works well for your hair, as while one technique may work for your bestie, it might not work very well for you.
There a few common signs that your hair may need some TLC, and that includes dryness, frizzing, breakage or even thinning. Putting stress onto your hair can make this even worse, and we don't want to be midway through our morning hair curling tutorial in front of the mirror to find you burn off your hair. So, to get those locks looking mighty fine, keep these habits in mind: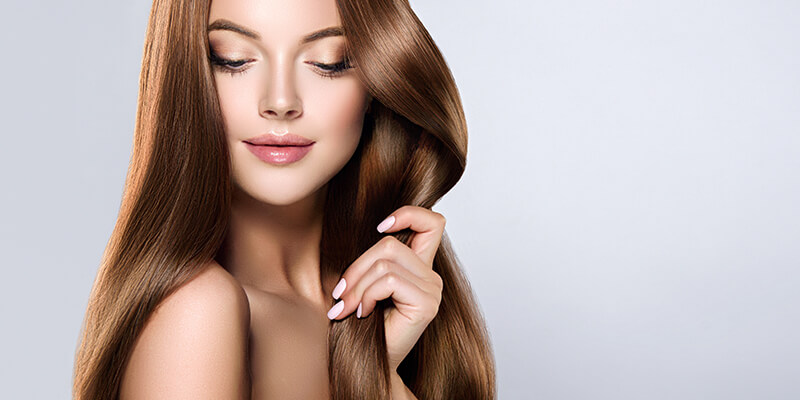 You've heard it before, and you'll hear it all again; the way that you brush your hair will have a significant impact on how it feels, looks and behaves. If you're still using a paddle brush to tackle those morning knots, then we have a lot of work to do! The first step to perfecting your brushing technique is to grab yourself a brush that actually works well with detangling your hair. The best type of brush is a professional detangler which has multiple flexible bristles to glide through your hair without pulling on it. If you pull on knots than you are highly likely going to break and, therefore, damage your hair, and that's not what we want to do!
Once you have your brush at hand, it's time to master the technique of brushing – we know, so exciting. You always want to start from the bottom and work your way up to the roots, as this stops you from pushing down knots from the top and creating one big messy at the bottom. You will need to be patient when brushing your hair and try to avoid going fully psycho when it doesn't quite go your way, just try and take some deep breaths and take your time. If you find that your hair is particularly tangled, then grab yourself some leave-in conditioner and spray just a few squirts onto the hair but not enough to make it really wet. The worst thing you can do is wet your hair and then try and brush out, thinking that it will be easier. Your hair becomes extremely fragile when you get it wet, much like pasta goes all floppy when you boil it, which makes breakage easier.
If you have hair extensions, then your brushing technique becomes even more important, as you will need to try and ensure that the bonds at the roots stay secure. To do this, all you will need to do is complete the same technique above, but try and hold the tops of your hair as you brush the bottom to avoid it pulling out the hair from the bonds. You will also need to use your fingers to untangle hair wrapped around the bonds. If you need some extra advice on how to care for your extensions, then take a look at the handy guide on Her.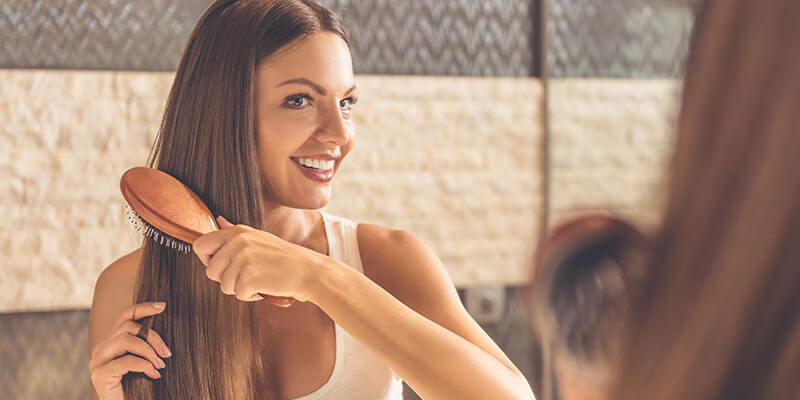 So, we're sure that you have a skincare routine for bedtime, so why don't you have one for your hair? Your hair is just as sensitive as your skin and needs just as much love and attention. Much like you would moisturise your glowing skin, you should also think about adding some moisture back into your hair. This is certainly the case for those that have damaged hair from heat or bleaching. Without moisturising your hair, you could leave it prone to breaking and splitting as the ends dry out. Lucky for us girlies, there are several ways in which we can get back our glossy hair through some deep conditioning and catching up on our favourite reality show. Why not try one of these solutions:
Leave-In Conditioners – these coat your hair not only to nourish it but also to protect it from heat, whether that be through tools or the glorious sunshine. You can spray these into your hair whenever it feels a little dry or frizzy, and is applied onto dry hair or just after washing.
Deep Conditioners – also referred to as hair masks, deep conditioners are the best for moisturising and nourishing the hair. You can find a host of conditioners that include argan oil or coconut oil, two of the best types of oils to apply to your hair. These conditioners are most commonly left on for around 10 minutes, but you can find some with heat caps for a salon feel!
Every Hair Wash Conditioners – after shampooing your hair, always condition! Shampoo can strip your hair of its natural oils, making it dry and brittle. However, it is important to find a conditioner that suits your hair type. Marie Claire has pieced together a list of the best shampoos and conditioners for every hair type to lend a girl a hand.
DIY Hair Masks – a lot of natural ingredients that you can find around your home are perfect for an overnight hair mask. We highly recommend using ingredients such as honey, coconut oil and egg whites.
Hair Oils – you may have noticed that shampoos and conditioners contain oils, well, the reason for this is because it thoroughly nourishes your hair. You should always apply a pea-sized drop of hair oil after washing, as it can leave you hair feeling soft and make it easier to manage.
While the ends of our hair need conditioning, it is important to note the roots are capable of looking after themselves. Try to avoid placing conditioner or oils at the roots, as this not only makes your hair greasy even quicker, but it can also cause the bonds of your extensions to slip. When you book in at our hair salon in Milton Keynes and the surrounding areas for hair extensions, our specialist stylists will give you top tips and tricks to maintaining soft and healthy hair through a very specific hair care routine.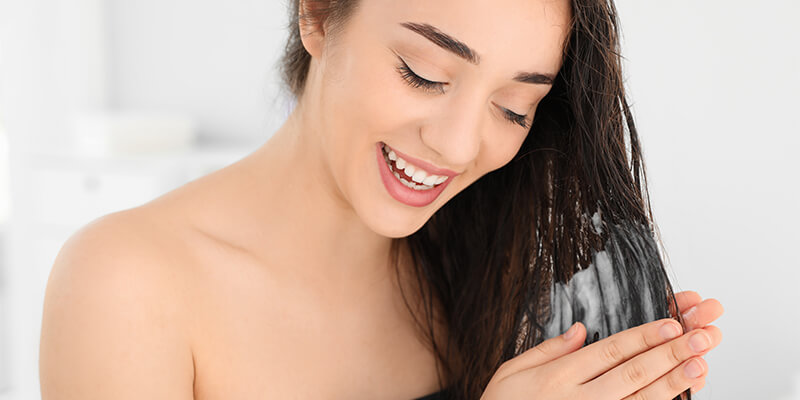 Eating a pizza on the sofa while crying at the TV or binge eating a whole packet of party rings in one go has become a rather common Saturday occurrence during lockdown. Not only is your skin now hating you for all that sugar consumption but your hair is defo not a fan of the lack of nutrients. Our bodies work on the basis that we provide it with the necessary vitamins and proteins to make sure that everything ticks the right way and functions to the best it can. These nutrients are dispersed among many aspects of our bodies, from the inside to the outside, so a healthy diet can significantly impact how our hair looks.
Now, we're not asking you to completely cut out your favourite goodies, all we're saying is that it may be time to think about introducing some protein, iron, zinc and omega high foods. Without these elements, you could find that your hair not only feels dry but can also shed. If you struggle to get these foods inside your system due to dietary requirements, then you can always purchase a selection of vitamins from Holland & Barrett. However, it is best to try and consume natural proteins and nutrients by trying some of these foods:
| | | | |
| --- | --- | --- | --- |
| Protein | Iron | Zinc | Omega |
| Chicken | Red Meat | Shellfish | Fish |
| Eggs | Kidney Beans | Chickpeas | Nuts |
| Broccoli | Dried Fruit | Hemp Seeds | flaxseeds |
| Milk | Lentils | Pine Nuts | Plant Oils |
| Lentils | Peas | Alomonds | Soy Milk |
| Chickpeas | Cashews & Flaxseeds | Milk | |
| Nuts | Spinach | Cheese | |
| | Potatoes | | |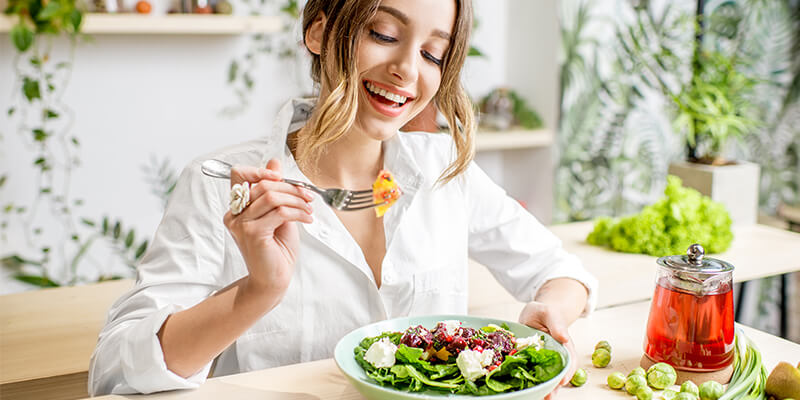 Heat damage is one of the biggest causes of brittle and dull hair, so it makes sense that using heated tools will severely damage your luscious locks. It's too easy to wake up in the morning, switch on your hair straighteners and attempt to create one of the many Kardashian hairstyles, but as leading hairdressers in Milton Keynes, we promise that this will only make you have an even worse hair day in the future! Try your best to tone it down with the amount of times you resort to heated tools, or at least turn down the heat a few notches.
There are so many ways you can style your hair without having to use your straighteners or curlers, whether that's an updo or an overnight styling. It may be time to change up your hairstyle, so we suggest taking a look at some of the cute updos in our previous article and the clever overnight curls on Makeup.com.
If you just can't go a day without applying heat to your hair, then you should invest in some good heat protector to ensure that you can protect your hair no matter how much you attempt to attack it. You also need to consider turning the heat down on your showers, as hot water can also cause damage to your hair!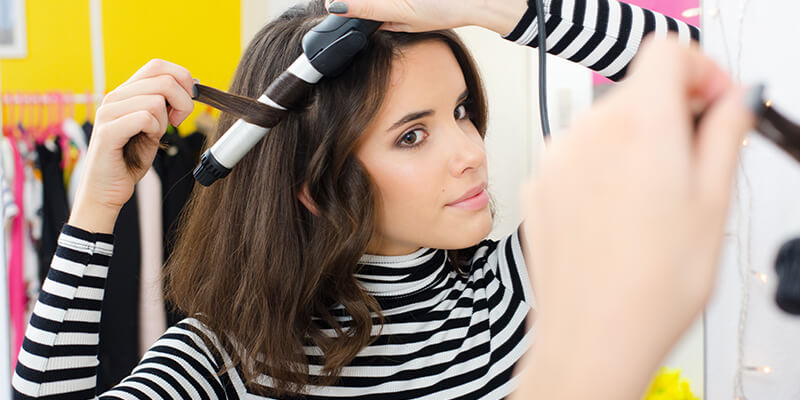 Have you ever noticed that on the days you've had the best sleep of your life, you tend to wake up looking like you've been dragged through a bush? Well, believe it or not girls, the material of your bedding will have something to do with it. While cotton may feel soft on your cheeks as you count your sheep to sleep, it can actually be doing a lot of damage to your hair. This is because the material creates friction with your hair as you toss and turn in your sleep, causing you to wake up with a nest!
When investing in hair extensions in Luton and the surrounding areas with our professional hairstylists, you will always be told the same thing; sleep with a silk pillow! It will do wonders to your hair, ensuring to not only reduce the chances of damage, but also to make sure that the hair is not pulled from the bonds. Lily Silk has a range of stunning silk pillows as well as sleeping beauty sets to match your pyjamas to your silky soft bedding!
Cutting your hair can be one of the most daunting things to do, especially if you're looking to grow your hair. However, trimming your locks is one of the best ways to maintain healthy hair. By getting your hair trimmed every eight weeks or so, you can cut off the dead ends and breakage that is likely to creep up your hair. While this may panic you, there are a few solutions to making sure that you can keep your long locks without damaging them. Many of our clients looking for hair extension in Northampton are wanting to grow their hair but do not want the hassle of waiting it out. Extensions are the best solution to giving you those luscious locks you have always dreamt of without causing damage to your hair. With the wide selection of extension types now available, adding a little volume and length, no matter your hairstyle, texture or thickness, couldn't be easier!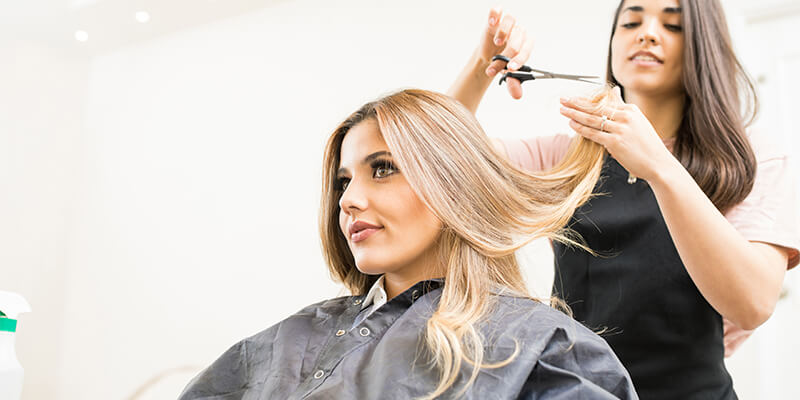 Hair That All The Girls Envy
Maintaining beautiful and healthy hair is a lot easier than it may seem, all you will need to do is make sure that you keep up with your hair care routine and change up a few habits. Finding the perfect products for your hair type is step one to successfully adding some nutrients and shine your locks, the second step is mastering your routine and technique. Once you have found the perfect solutions, you'll soon be on your way to luscious locks that all the girls are bound to envy!