Anyone with naturally thin hair will understand the struggle of trying to recreate big and bouncy curls, a messy bun or high pony and wondering "if only I had more hair!". There are a whole host of beautiful styles that seem ever so far away – but, this most definitely doesn't have to be the case! We have a number of hair extensions for thin hair, along with custom-made solutions for those suffering from significant hair loss.
Best Hair Extensions For Thin Hair: A Complete Guide
One of the biggest myths with regards to hair extensions is that only those with thick hair can have them fitted when, in fact, there is a solution for every hair type. To give you an insight into the host of possibilities to achieve thick, luscious locks, we're going to run through detailed answers to the following questions, including the best hair extensions for thin hair to achieve those bouncy curls and messy buns: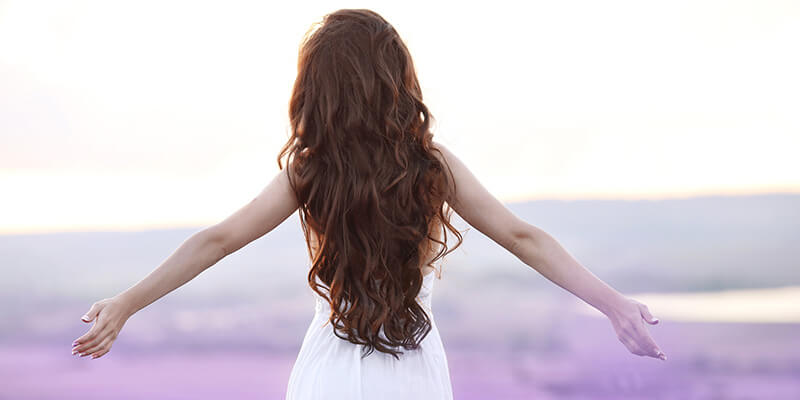 According to the NHS, we naturally shed up to 100 hairs a day, and while this may seem a lot, it's unlikely that you would even notice a difference. Although losing the odd hair is nothing to worry about, if this becomes excessive, it can begin to impact confidence and cause a lack of self-esteem. Depending on the cause of the hair thinning, many may only see a temporary issue, and then the problem will resolve with time. However, for others, hair loss becomes long-term, in which they may need to consider trailing medication or treatments to encourage the regrowth of hair.
There are a whole host of causes of hair thinning, and much like any other condition, can be inevitable. For instance, many men experience male pattern baldness, which occurs with age as their hormone levels begin to change. This is often heredity, which means that the cause of hair loss is simply genes, most commonly passed down from their mother's father. While male pattern baldness is the most common example of heredity hair thinning, women can also suffer from the same condition, which is otherwise known as androgenetic alopecia. Unlike men, female pattern baldness does not cause the hair to fall out from the hairline, but instead at their parting before reaching the remainder of the scalp. A full guide on androgenetic alopecia, how it causes hair loss in women, and how it can be diagnosed can be found on Healthline.
In other instances, individuals may suffer from reactive hair thinning, which means that it is as a result of a trigger. The most common triggers for thinning hair in women include the following:
Stress – You would be surprised how much stress can have an impact on the body, and this is no different when it comes to your hair. Those under ongoing emotional stress or experiencing anxiety can cause hair to fall out down to the change in hormones.
Deficiencies – It is thought that iron deficiency is one of the most common causes of hair loss in women as the decreased iron makes it trickier for oxygen to reach the cells; therefore, hair growth cannot be stimulated. A lack of vitamin B12 can also impact hair growth, but you can pick up supplements for this from retailers such as Holland & Barrett.
Hormonal Imbalance – From acne to weight gain, there are a whole host of issues that come alongside hormonal balance, and this includes hair thinning. Floliving has put together a super helpful article on everything you need to know about the connection between hormones and hair loss.
More information on the most common causes of hair loss in women can be found on Healthline.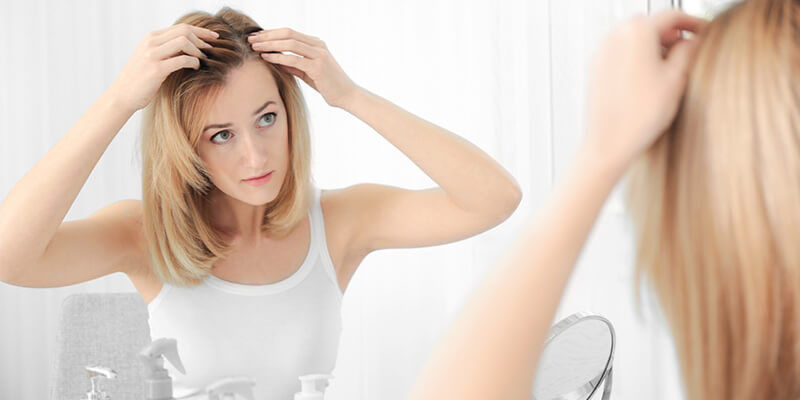 While in the past, those who were experiencing hair loss were somewhat limited in terms of solutions, this most definitely is no longer the case. Gone are the days where you have to deal with uncomfortable, badly-fitted wigs or opt for the surgical route with a hair transplant, as there are a number of fantastic ways to replicate the appearance of your natural locks. Here at Lacy Locks, we have specialised in hair extensions in Milton Keynes for many years, which means that we have seen the evolution of hair loss solutions, along with extension techniques that have been designed for thinner hair. Based on the condition of your natural hair and the extent of your hair thinning, you will be advised to use one of the three best hair extensions for fine hair: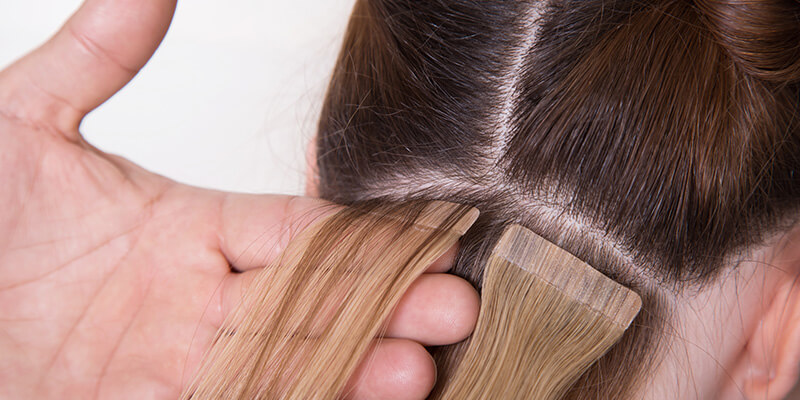 Tape Hair Extensions
If your natural hair is thin or it is brittle down to damage, then tape hair extensions would be the best route for you. Tape extensions remain one of the kindest types as their application method includes absolutely no tight braiding of your natural locks or the use of chemicals and heated tools. They are also designed to be extra lightweight, which means that they will not pull on the roots, allowing your natural hair to continue to grow underneath the extensions. All that will happen is that the extensions will move down as the natural hair grows before being repositioned to the root during maintenance appointments.
When fitting tape hair extensions, the method is super straightforward, which means that an entire hair of extensions can be fitted in an hour, two and a half hours at most. Each weft used is equipped with thin, almost invisible tape, which is then secured directly to the root of your hair in small sections. If your hair is healthy enough to handle the extra wefts without damage, then "sandwich-like" formation can be used, which involves two wefts with a section of your natural locks in the middle. For those with weaker hair, on the other hand, just one weft will be placed on each section.
Once your tape extensions have been fitted, you will be free to treat them just as you would your natural hair. The flexibility and transparency of the tape mean that they will not be visible through your hair, which is ideal if your hair is thin and fine. This also means that you can put your hair up without having to worry about trying to hide bonds.
If you are interested in this type of tape hair extensions in Milton Keynes and the surrounding areas, then please do not hesitate to contact the team at Lacy Locks. We'll be more than happy to book you in for a consultation where we can walk through your requirements. Alternatively, if there is another hair extension type you have in mind but want to find out more, take a look at our previous article.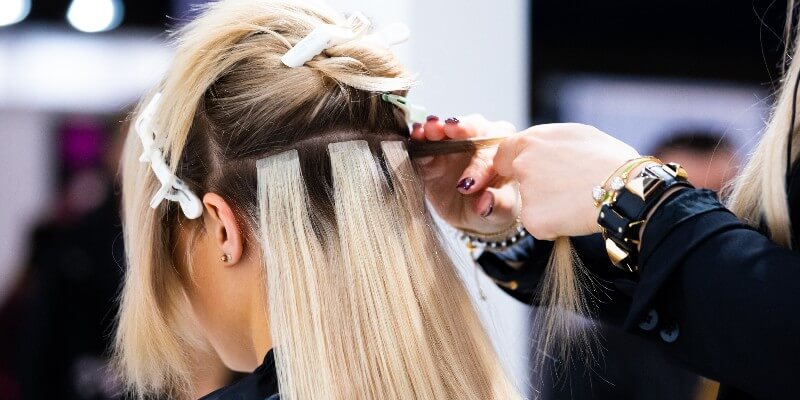 Hair Loss Integration System
For those who are suffering from complete hair loss as a result of, for example, chemotherapy or alopecia, a mesh integration system would be ideal. Mesh integration systems provide a custom-made alternative to wigs, which are designed for individuals with too brittle or too little hair to fit extensions. The systems are made using a flexible, breathable mesh, which is created to mimic the appearance of your scalp and feature colour-matched human hair. Due to the nature of the mesh and hair used, it will be virtually impossible for anyone to spot that the system was not your natural locks. Even around your hairline and at your parting, the ultra-fine mesh will be invisible to the naked eye. Moreover, much like extensions, they can also be washed, dried and styled as you would do your natural hair.
Crown Volumiser
Another solution to combat the appearance of hair thinning is a crown volumiser, which is particularly beneficial for those who are only experiencing loss at the top and around the front of their hair. The most common cause of hair loss at the crown of the head is androgenic alopecia, which, unfortunately, is something that you cannot control nor prevent from occurring. However, this most definitely doesn't mean that you cannot enjoy a full head of luscious locks. A crown volumiser is placed strategically on the head to create the illusion of naturally thicker hair around the frontal areas. Not only can a crown volumiser be fitted on its own, but also along with hair extensions should you also wish to add extra length to your locks. Again, the crown volumiser is secured to the scalp on a long-term basis, with regular maintenance appointments required to retain results.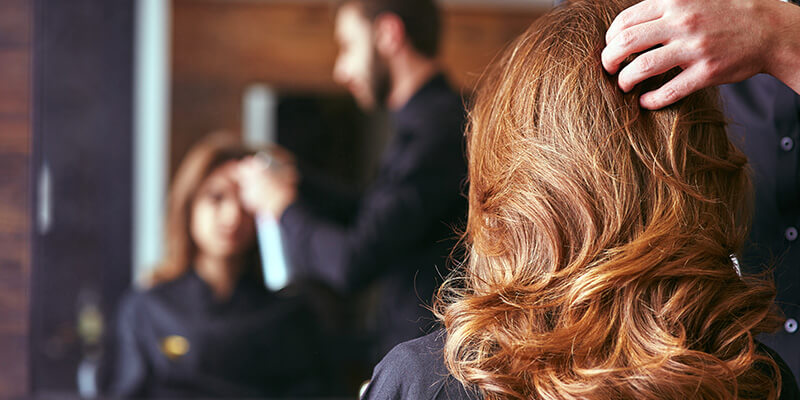 Regardless of the condition of your hair, ensuring that you take extra care while having extensions fitted is imperative. However, this is even more important when your hair is naturally weaker as you want to prevent any more hair loss and instead, enjoy a full head of thick, voluminous locks. With this in mind, we have put together some last few tips on how to get healthier hair to ensure that your natural hair remains as healthy as possible while having extensions or a system fitted.
Schedule Regular Maintenance Appointments
First and foremost, we cannot stress the importance of booking regular maintenance appointments enough. Always ensure that you keep up to date with your maintenance appointments, which are often every six to eight weeks depending on the type of extensions you have fitted. Most of our clients who opt for tape hair extensions in Bedford and the surrounding areas schedule their next visit during their maintenance appointment to ensure that they never forget to book in. During each appointment, your extensions will be repositioned back to the root, which prevents matting and tangling of your natural locks. This helps to keep both your hair and scalp healthy, along with your extensions in immaculate condition.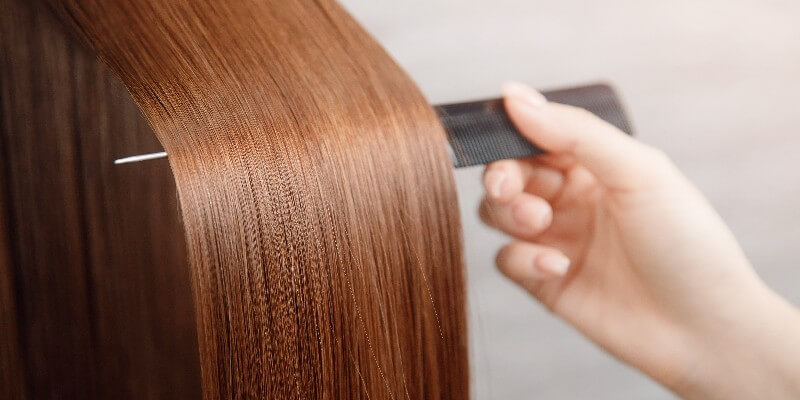 Use Products With The Right Ingredients
During your initial fitting appointment, whether this may be for extensions or a hair loss system, you will be advised on the best products to use to keep both your natural locks and wefts healthy. However, it is vital to familiarise yourself with the different ingredients that you may find in hair care products, along with those that are beneficial and those to avoid.
Products which involve hydrating ingredients are ideal as this helps to moisturise your scalp while providing your hair with all of the essential nutrients to promote healthy growth. Shampoos with, for example, argan oil, coconut milk and shea, are all fantastic examples. Conditioner and conditioning oils can also be used on extensions; however, we strongly recommend avoiding putting these products on the roots as it could cause your bonds or tape to slide.
Now that we have covered the good, it's now onto the bad. Regardless of whether you have extensions or not, always opt for products that are free from sulphates and alcohol. Both of these ingredient's strip both your hair and scalp from its natural oils, making matting and tangling of your extensions more likely, which can be incredibly damaging to thinner hair. Take a look at Nutrafol for more information on harmful ingredients to avoid.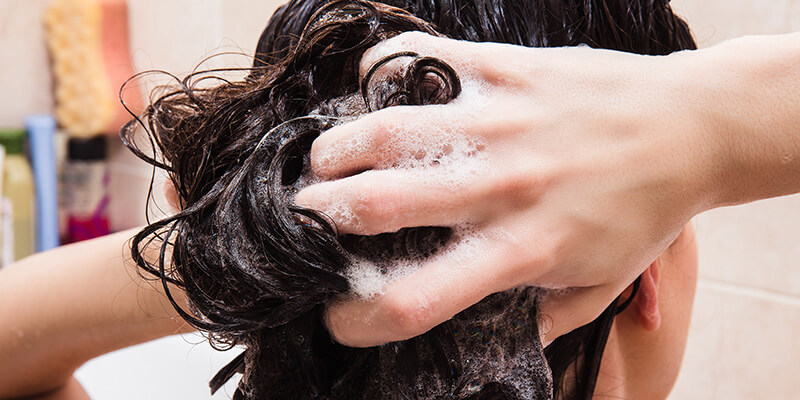 Always Brush With Care
Another vital tip to ensure that your locks remain healthy with extensions fitted is to always brush with extra care. Those with naturally thin, fine hair or individuals suffering from trigger-related hair loss cannot afford to put any stress on their roots, which means that you do not want to cause tension while brushing. Your hair will inevitably become tangled, especially after washing, but always be patient and take time to brush through your extensions carefully from the bottom to the top. If you're stuck for inspiration on the best brushes, take a look at Bustle for the top five brushes for more delicate hair.
Never Sleep With Wet Hair
An absolute must when caring for your extensions is to never sleep with wet hair. While you may be able to leave your natural hair to dry overnight, this is most definitely not the case when it comes to extensions. As you move in your sleep, the wet extensions will become tangled and matted more than ever, making them super tricky to brush out without causing any tension on your scalp. This will also put pressure on the bonds or tape, meaning that you may find that your extensions will become loose or fall out altogether.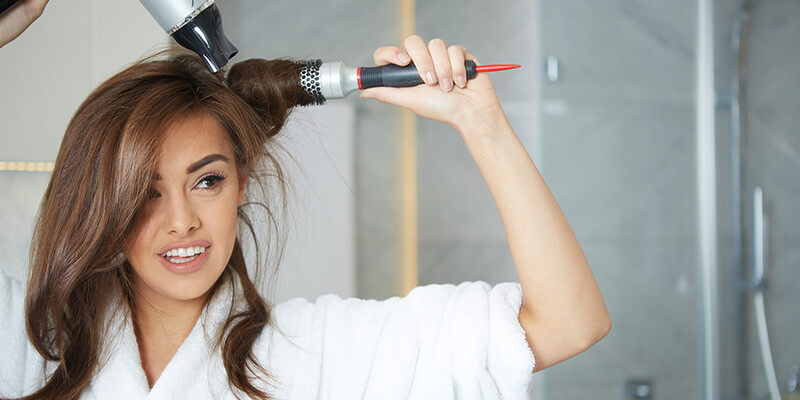 From Thin & Fine To Thick & Voluminous!
With the host of solutions now available, it couldn't be easier to transform your locks from thin and fine to thick and voluminous. While having thinner and more delicate hair does mean that you must take extra care, it doesn't mean that you cannot enjoy the hair of your dreams. If you are interested in any of the services mentioned, then please do not hesitate to contact Lacy Locks professional hairdressers in Milton Keynes. We can get you booked in for a consultation to pop into the salon and discuss your requirements with one of our experienced extensionists. Your dream hair is just a phone call away!