Winter is the perfect time of year to cuddle up and stay cosy with a nice hot chocolate in front of the TV, and it seems like that is going to be the plans for many of us this winter. While staying safe in your home, it is important to keep your wellbeing in check, and one of the best ways to do that is to treat yourself to some luscious locks and a hair care treatment. In fact, our hair can go through a lot during the winter, whether you're heading out for your evening stroll, playing in the snow (fingers crossed we can have our Elsa moments this year) or wrapped up all cosy in your oversized hoodie and bed socks. Lucky for you, as your hair guru's, we have plenty of hair extensions care tips to keep you going, protecting your hair ready for those summer curls and blonde bombshells.
Winter Hair Extensions Care For Luscious Locks All Year Round
It is important for you to keep your hair protected and healthy, and the only way you can achieve that is taking some time out of your day to add a little bit of spice to your hair care routine. Sit back and relax with a face mask – and hair mask of course – and pop on your favourite Netflix series; all you'll need to do is make sure you don't drift off to sleep with your face mask on! So, after visiting our salon for 100% human and high-quality hair extensions in Milton Keynes, here are some top tips to keep them looking fresh and glamorous in even the harshest conditions: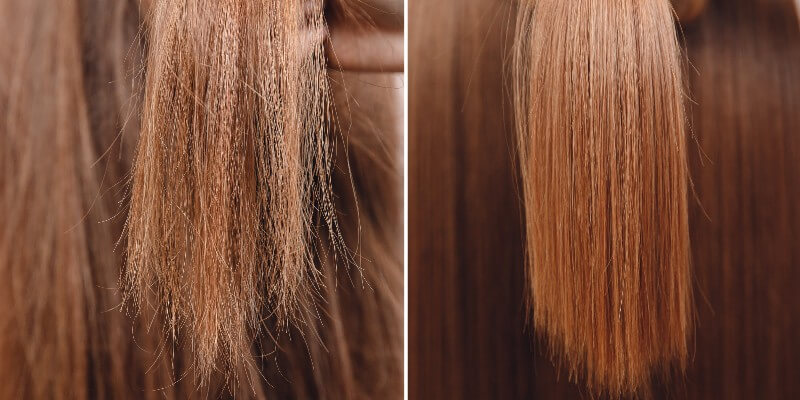 Greasy hair is always a big no, especially for us girlies with hair extensions. When your scalp becomes greasy, it can make the bonds of your extensions begin to slip, which will cause the hair extensions to fall lower on your hair or hair strands from the extensions will begin to fall out. However, in the winter, your hair can do with a lot of nutrients as it becomes dry and brittle, causing the dreaded split ends! Greasy hair is not always a bad thing, as it provides your hair follicles with all the vitamins and nourishing components it needs to stay healthy, meaning that it may not be all bad to leave your hair that one extra day. In fact, over-washing your hair can cause the extensions to become dry, which will do just as much damage as leaving your hair greasy for long periods of time.
Additionally, you will also want to find a shampoo that helps to nourish the hair rather than cause further issues. For example, those with sulphates completely strip the hair of its natural oils. On the other hand, shampoos with argan oil, coconut oil and even aloe vera can have the opposite effect, making your hair look and feel much healthier. If you want to make sure that your hair extensions are well protected, then we would highly recommend using a shampoo that has been designed for hair extensions, such as the Regal Envy Hair Extension Shampoo. This shampoo has been designed to cleanse the hair strands without impacting the bonds used to secure them, allowing you to wash your hair like you would your natural locks. After washing your hair with shampoo, you should also apply conditioner to the ends of your extensions only, applying this to the roots will cause the bonds to slip.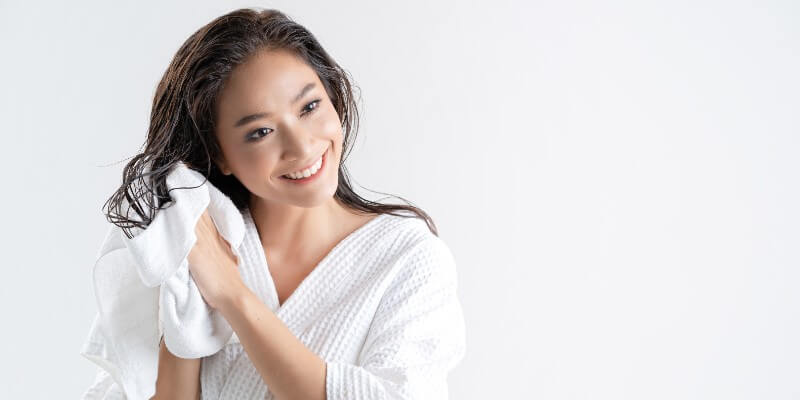 There is nothing like getting home after a long day's work, or moving away from your desk and into the living room, and having a pamper session. From your favourite face masks to treating those nails to some glitz and glamour, it's important to make yourself feel good, even if you don't plan on leaving the house. One of these treats should be a weekly hair mask that puts nutrients back into your hair after the cold winter weather has stripped the moisture from your extensions. This should be applied to the ends of your hair extensions, and left to do its thing for 30+ minutes; you can even find overnight hair masks so that you wake up feeling fabulous. When choosing a hair mask you want to make sure that it helps your hair with the nutrients it needs, such as oils for dry and broken hair, or you can choose to create your own to ensure your hair gets what it needs. Here are some DIY hair mask ideas:
For Dry Hair – try a honey, egg and vinegar combination to hydrate those locks.
For Flaky Hair – use coconut oil for nourishment, sugar for a good scrub and essential oils such as peppermint and tea tree
For Hair Growth – promote healthy hair and therefore, hair growth, with cinnamon and coconut oil.
For Greasy Hair – if your hair overproduces natural oils, then try egg whites and lemon juice. Lemon juice is particularly good for those with blonde hair is it naturally lightens your locks.
For Damaged Hair – no one wants damaged ends, so make sure to repair yours with avocado, eggs and olive oil.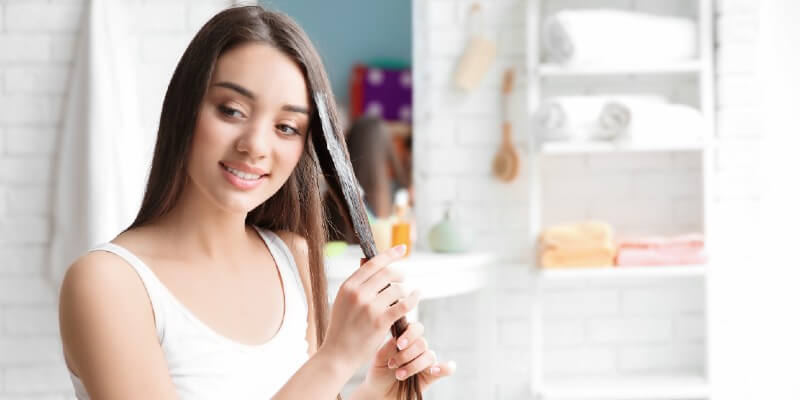 While you may think that your hair is safe from heat in the winter, you couldn't be any further from the truth. In fact, when it comes to winter, we often use heated tools such as our blow drier even more; this is because in the summer we can sunbathe while waiting for our hair to dry, but it's a little too cold in the winter for that. The extra heat from our styling tools can have a negative impact on our hair, particularly in the winter when the weather strips our locks of moisture and natural nutrients.
We have said it once, and we will say it time and time again, heat protector is a MUST! Heat protector places a protective layer over your hair that stops heat from your hair dryer or straighteners attacking the hair strands, minimising dry hair and of course, split ends. This makes it a very important part of your hair care routine, and you must always apply this to your hair before using heated tools. You can find a range of the best heat protector products on Byrdie, including affordable brands such as Pantene.
A silk pillow can do wonders for your hair, especially when you have hair extensions. The benefit of a silk pillow is that it minimises the chances of waking up with a big bird's nest, leaving you with the task of untangling your hair strands from the extension bonds. This can damage hair, particularly when it is split and brittle. Unlike cotton and other fabrics, as you move in your sleep, your head and hair glide along the silk pillow, making it difficult for your hair to become tangled.
If you do find that your hair ends up in a knot no matter how hard you try to stay still, then you will need to purchase yourself a tangle teezer and gently brush your hair. Start from the ends of your hair and work your way up to avoid putting pressure on the hair, causing more tangles or breaking the strands. When you have brushed through your hair, with your fingers, gently detangle the hair around the bonds until you can clearly feel the bond has no hair wrapped around it.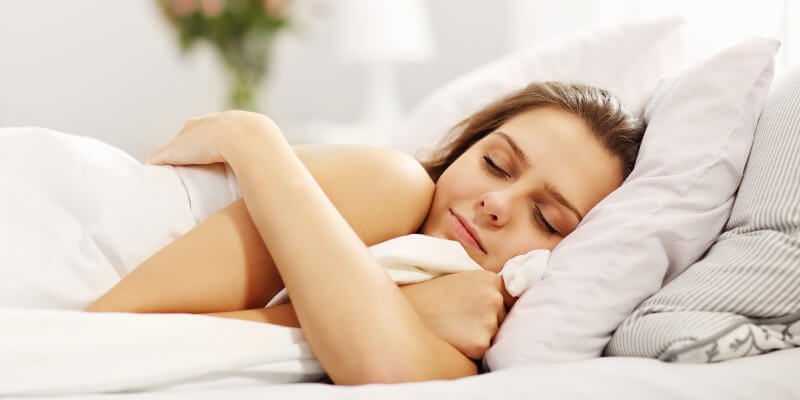 It can be tempting to have a hot shower when it's so cold outside, but while it can be nice to relax in after a stressful day of doing nothing, it won't be doing your hair any good! Much like your hair would become damaged by applying heated styling tools, it can have the same effect in a hot shower. The follicles of your hair open, leaving it exposed, causing breakage and other damage, and to make things worse, the heat from your shower can also cause micro and nano rings to melt! For this reason, try and turn the shower down a few degrees, or wash your hair over the shower after your nice warm bath so that you can monitor the temperature applied to your luscious locks.
After washing your hair, it is important to make sure that you carefully brush your extensions. The reason for this is that when hair becomes wet, it is easy the snap, much like pasta becomes soft after cooking. This means that when brushing your hair, you will need to take extra care to make sure that you do not pull on the hair strands causing it to break. We would recommend using a wide-tooth comb for this job, and again, work your way from the bottom up. If you are unsure on your brushing technique or would like further information about heat on your extensions, then our stylists are more than happy to go through more tips when having nano ring, micro ring, tape and LA weave hair extensions in Luton and the surrounding areas.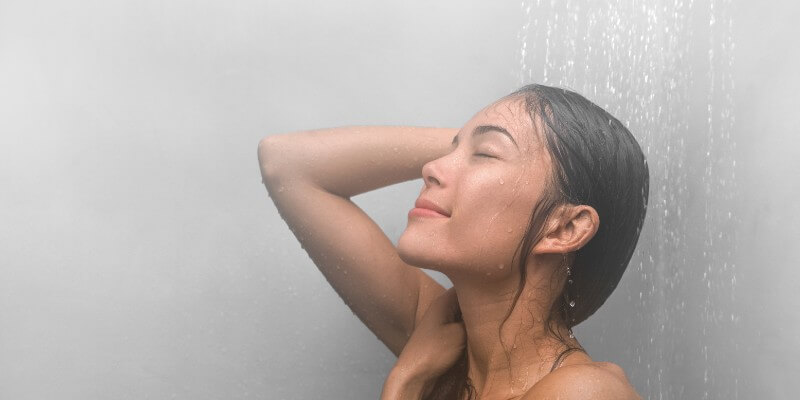 A hair cut won't just make you feel more confident, it can help to maintain a healthy head of hair. While you may be trying to grow your natural locks, it is always important to have your hair trimmed around every 6-8 weeks. By trimming your hair, it gets rid of all your split ends, making sure that they do not travel up the hair strand, causing your hair to look sparse at the ends. When fitting hair extensions in Luton and the surrounding areas at our salon, or booking in for maintenance visits, you can take advantage of our specialist stylists, who can trim and style your hair how you wish. Feel free to contact our team to book in!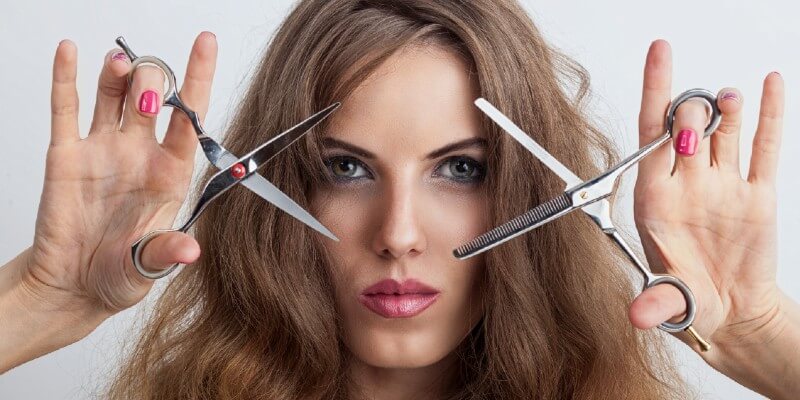 Keep Those Locks Looking Good During Winter
For many of us, our hair is everything, and it's the only thing that's keeping us looking good while singing along to a Disney film in our PJs and no makeup. So, if you love your hair and want to make sure that it looks good no matter what the season is, be sure to treat yourself to some pamper sessions and quality products to add some nutrients to those locks. As specialists in all thing's hair, including our reputable and leading LA weave hair extensions in Milton Keynes, we can equip you with the very best human hair available, ensuring that along with some hair care, you look like the ice queen that you are.