Hair extensions are one of life's best creations, from the ability to give you those long locks you have always dreamed of to boosting your confidence after experiencing hair thinning. But, there is a fair share of hair extension horror stories out there can make you a little dubious about what to expect. Will my extensions damage my natural hair? Will you be able to see them? Will they cost me a fortune? The list goes on, but I'm here to debunk those hair extension myths that are standing in the way of transforming your locks!
What Are The Most Common Hair Extension Myths?
If you are new to the world of hair extensions, it can be tricky to know where to start. You hear so many tales of those with extensions that have left them with bald patches or serious matting, but there is always a reason behind this and its never because of your extensions themselves. Through booking an appointment with a professional who will pair you with the right extensions for your natural hair, you will encounter absolutely no problems. So what are these common rumours, and which of them are most definitely not true? Let's take a closer look!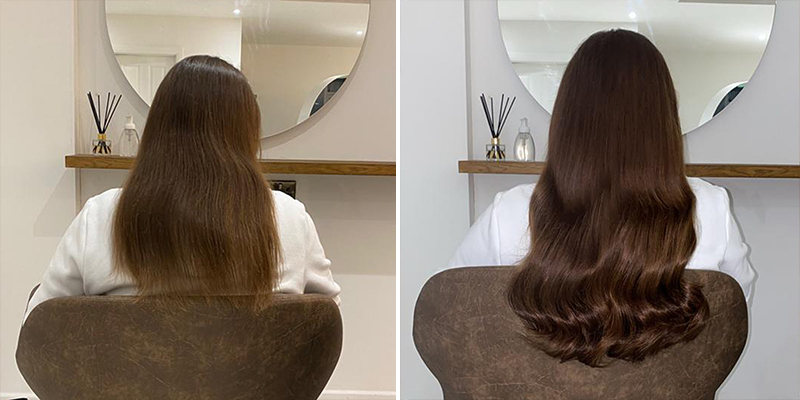 False. Hair extensions have been around for many years. In fact, only recently it was discovered by archaeologists that Egyptians wore wigs and hair extensions; these were then decorated by beads as you see on Cleopatra.
Once upon a time, hair extensions were mainly only seen on television and in films. As a child, I still wondered how Sharon Stone had short hair one minute and long the next. Now you mainly see them on television, on shows such as TOWIE, Made in Chelsea and Keeping Up With The Kardashians.

The reason for this myth is because a lot of younger women like to wear them really thick. They may opt for a full head of hair extensions which gives maximum length and thickness. Tape hair extensions and the LA Weave are also extremely popular in the younger generation.
However, older women like to have something more natural. The reason for this myth is because older women opt for more of a natural look where the extensions are not noticeable. This may include a half head of nano rings or micro ring extensions, both of which creates a fuller yet natural and subtle look.
Anyone of all walks and ages can wear hair extensions as there are now so many different methods to achieve the finish you desire. My oldest client is in her 70's and has a half head of nano rings, which is then cut to her natural length. NO ONE KNOWS. Instead, she just receives compliments on how lovely and full her hair is.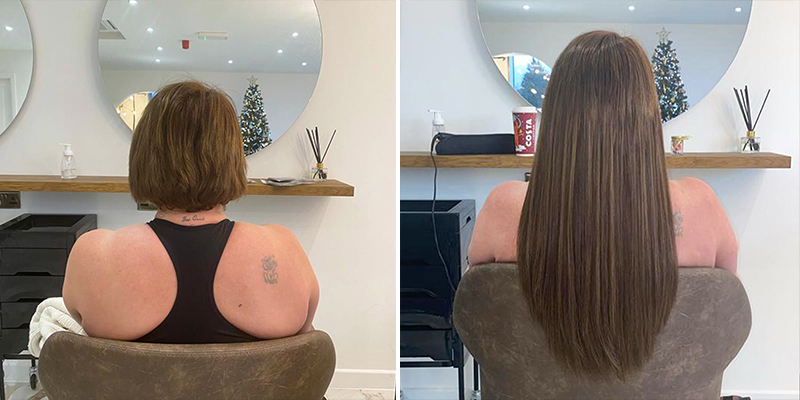 False. When hair extensions were not as well-known, they were expensive. However, hair extensions are so popular now, and almost everyone knows someone who wears them. The pricing also depends on the method, the thickness, and the length you decide to choose.
Usually, you can keep the hair extensions in for a year and just maintain them every 2-3 months, which provides good value for money. If you don't want to have the permanent extensions, you can also opt for clip-in hair extensions; these can be worn and removed as you please. Our favourite ones are by Regal Envy which come in various different thicknesses and lengths. We also offer PayL8r finance on our hair extensions, and you can spread the cost of them paying as little as £32 per month.
False. If you are having your hair extensions fitted by a professional there is no reason why other people should be able to see them.
The advice I give to my clients is when you can start to notice them, it's time for a maintenance appointment. Other than that you shouldn't be able to see them unless they have either been placed incorrectly or you have a method of hair extensions in, which isn't suitable for your hair.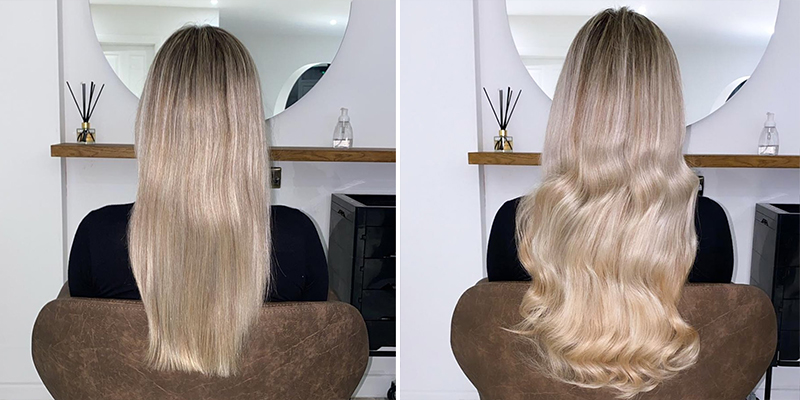 False. Many women think having hair extensions fitted will restrict them from wearing their hair in a certain style. This is untrue. Hair extensions are so versatile you can wear them in a high ponytail, a bun and even plaits. Sometimes you just have to spend a bit more time on them to ensure you have covered the rings, tape or weft. Your hair extension technician can go through this with you at the time of the fitting.
False. As long as hair extensions are fitted by a professional they do not damage your hair. In fact, they help your natural hair to grow.
I have many clients who come in with damaged hair through bleaching, heat and sometimes from having hair extensions from an untrained person. The only way hair extensions can damage hair is:
If they haven't been fitted by a professional
If they haven't been correctly maintained
At Lacy Locks, we give our clients aftercare advice as well as an aftercare sheet you can take away with you in case you forget. As long as you follow these instructions, you will have healthy hair growing underneath.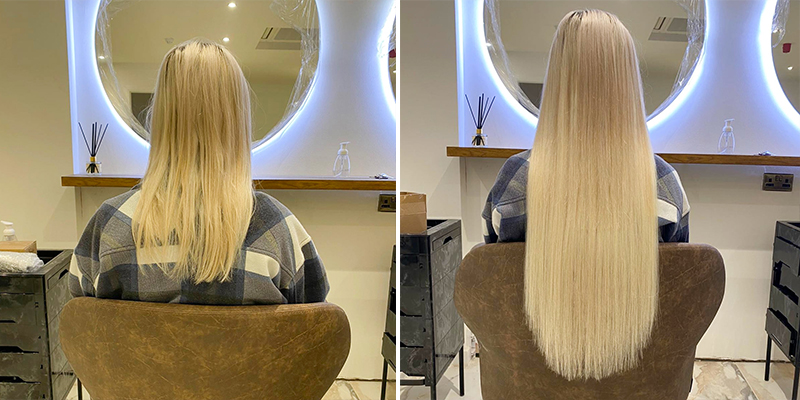 False. Hair extensions help your natural hair to grow. The reasons for this are:
You wash your hair less when you have hair extensions in as hair extensions don't get greasy
You don't do as much to your hair when you have extensions fitted as you won't need to style them as much as you would your natural hair
You begin to use quality silicone and sulphate-free products which are really good for your natural hair and not just the hair extensions
Less Heat is applied to your hair
You'll be advised to plait your hair extensions at night which will stop any breakages
Overall most women look after their hair more when they have hair extensions in

Please take a look at the natural hair growth section in our gallery to see pictures of clients whose hair has grown dramatically just by wearing hair extensions.

False. Hair extensions can be as natural as you want them. Just take a look at our Instagram page @lacylocksuk for before and after pictures of our clients.

Most of our clients who wear hair extensions have said their friends are completely oblivious to the fact they have them in unless they tell them.

If you want your hair to look more natural, opt for a half head of nano ring or micro ring hair extensions. You can also have half head of tape hair extensions to ensure they look as natural as possible.


False. Your natural hair can still be coloured with hair extensions in. There are some hairdressers who prefer not to colour hair whilst hair extensions are in; however, most hairdressers are comfortable in doing so.

I advise my clients to only have the T-section coloured as this is usually the only bit which is noticeable. If however, you want to colour your whole hair you can remove the extensions when you are due for maintenance, have a full head of colour and then refit the hair extensions.

False. Hair extensions are known to be less upkeep than your natural hair. The reasons being:

You style your hair less than you would with no hair extensions in as the styles hold for much longer
You have fewer trips to the hairdressers for hair cuts and colour
Hair extensions are easy to look after
You can treat the hair extensions as you would your natural hair
You can throw your hair extensions up in a bun on the days you are feeling too lazy to wash your hair
Maintenance on tapes, LA weave and micro rings can be every 8 weeks and for nano rings up to 12 weeks

False. A person's hair growth cycle can be affected by many factors including:

Ethnic origin and hereditary factors
Medication and medical treatment which can significantly change many factors of hair growth, such as chemotherapy
Metabolic imbalances illness or improper nutrition
Pregnancy

Hair loss can leave women feeling unhappy and insecure but don't despair; there is something for everyone. You now don't need to search the internet for the most natural-looking wigs.

We offer bespoke hair loss mesh integration systems. These can be worn as permanent extensions and will look really natural. No one will even notice you have them in!