Now that you have your new luscious locks, it's time to talk aftercare. As your Lacy Locks hair extensions are made of 100% human hair, they require as much love and care as your natural locks. While this means that you need to take a little bit of time out of your day to ensure your hair care routine is perfect, it does mean that you can continue with your everyday styling and washing without worrying about treating your extensions differently.
Good quality hair extensions can last up to 9 months, depending on the type of extensions you have and how well you care for them. You will need quick maintenance appointments every 6-8 weeks on top of caring for your extensions at home to ensure that they look as good as new. Without the proper care, you could find that the extensions begin to slip, get tangled at the bonds or are damaged at the ends. So, to ensure that you maintain that glamorous look no matter how long it is until your next maintenance appointment, here is our guide on how to look after hair extensions.
How To Look After Hair Extensions: Our Guide
As your hair gurus and having provided you with luscious hair extensions in Milton Keynes for many years, we thought it was only fitting for us to give you some tips to make sure that your extensions look as good as new even at the end of their lifespan. Everything from how you wash your hair to how you style it will impact the condition of your extensions, making it wise to design a hair routine that does more than make your hair smell insane.
Whether you're new to the hair extensions world or are well on your way to mastering the art of styling your new locks, here is everything you need to know to keep them in tip-top condition:
Need More Hair Care Advice?
Sign up here to unlock the secrets to effortlessly gorgeous locks!

We all know that it has to be done, but bringing ourselves to wash our hair on a Monday morning is more torture than pleasure. But did you know that how you wash your hair and the products you use will significantly impact how your extensions feel and look?
Shampooing
Shampoo is a product that helps to clean and cleanse your hair and scalp of all that nasty bacteria, excess oil and product build-up. However, this means many strong and damaging chemicals inside many shampoo products could cause more harm than good. When looking for shampoos, always try and opt for those that do not contain sulphate, which is a harsh chemical that can cause your scalp to become dry and flaky. If you're not sure which shampoo to use for your hair, then take a look at Good Housekeeping and give some of their recommendations a go!
Along with your new shampoo, you should also master your washing technique – yes, there is a technique to washing your hair. Luckily, it's pretty simple to get the hang of, as all you need to do is massage your scalp. First, you must ensure that you wash your hair upright, as washing your extensions upside down can tangle them. Use your fingertips to get between the attachment areas and gently put pressure on your scalp, rubbing in circles and moving from your forehead to your neck. By doing this, you can remove dead skin and dirt build-up from your scalp, which will help your natural hair to grow and make your hair feel lighter. Unless you have managed to get last night's dinner in your hair, avoid over-shampooing the ends, as this can dry it out, leaving the hair to feel brittle and frizzy. But if you need to wash them thoroughly, gently smooth the shampoo down the hair extensions to avoid pulling them out.
Many believe washing your hair more often means cleaner hair, but this can damage your extensions. You will need to train your hair to last a little longer if you currently wash it every other day, as we recommend washing your extensions around 1-2 times a week.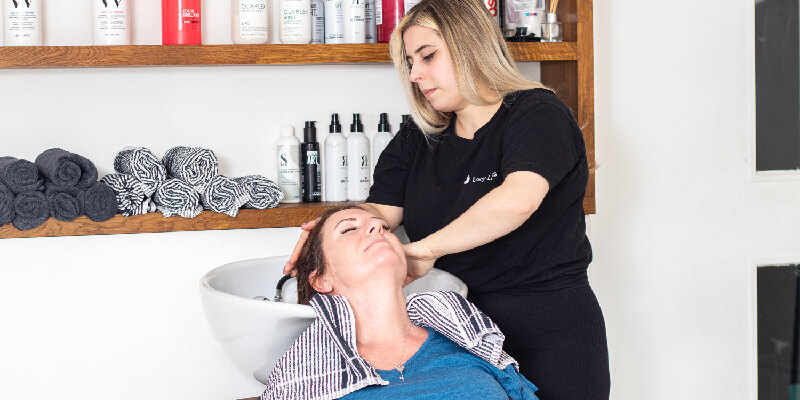 Conditioning
Unlike shampooing your hair, conditioning is designed to nourish and replenish the hair to keep it healthy and shiny. However, instead of applying conditioner to the roots of your hair, you should only lather the ends of your extensions with conditioner. This is especially important if you have nano or micro ring extensions, as the conditioner could end up causing the rings to slip down the hair – and we don't want that to happen! Whether you are applying your usual conditioner or a deep conditioning hair mask, apply the product from the bottom of your ears down to the ends of your extensions.
Using conditioner is a great way to keep your hair looking and feeling good while also adding that extra bit of shine and, of course, a luscious smell! You can apply several different types of conditioner to your hair, from hair masks to leave-in ones. There are conditioners with a range of oils in them to nourish your hair, such as Moroccan and argan oil. You can find the best hair conditioner based on your hair type and needs on Cosmopolitan.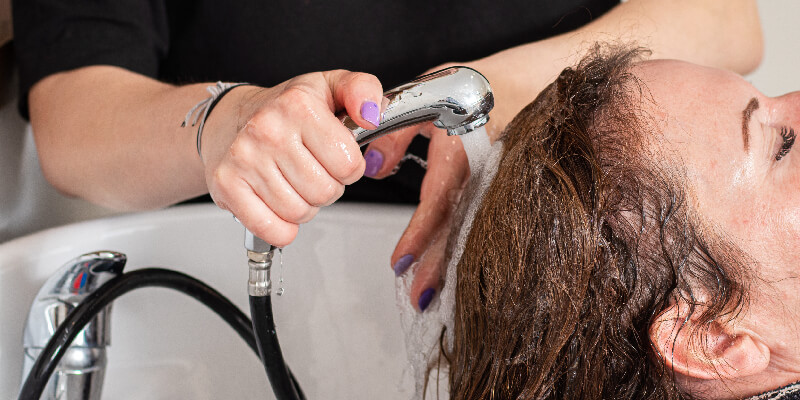 You probably already do these basic hair care tasks, but when it comes to looking after your hair extensions properly, using the proper techniques and products is extremely important. Not to worry: as professional hairdressers in Milton Keynes, we have put together some advice that will help you transform your locks with minimal changes to your current hair routine! All of these tips must be carried out alongside regular maintenance appointments to be effective.
It's easy enough to get out of the shower and be tempted to tip your head upside down and rub your towel on your head to dry those locks, but PLEASE do not do this! It can cause significant damage to your hair, so you need to take a little more care when drying.
When the hair is damp, apply some argan oil and then dry the extension attachment area first using the cool setting on your hairdryer – never use the hot settings as this will melt the adhesive over time. Once the attachment area is dry, begin sectioning off the hair and dry using a round vent brush, pointing the dryer at the floor. The hair extensions can also be left to dry naturally, but avoid doing this before bed!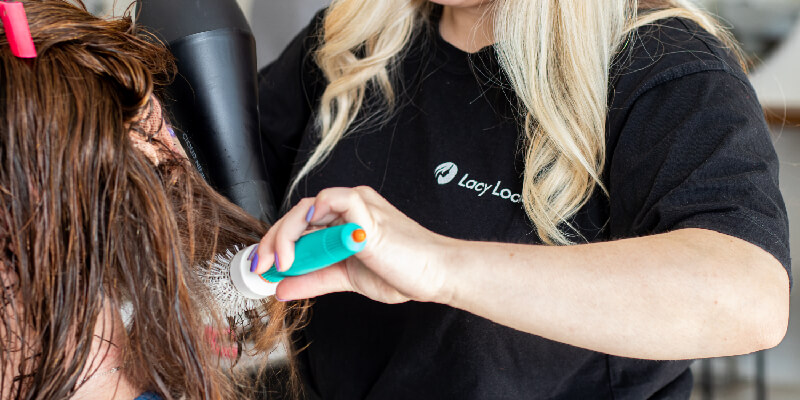 Brushing is one of the most important things in your hair care, as it removes tangles and keeps those locks looking clean and healthy. Without brushing your hair, the top will likely start to wrap around the rings or wefts of your extensions, which can ruin their lifespan and make it incredibly hard to remove them.
To ensure this does not happen, you will first need to ensure that you have a trusty hairbrush designed for extensions – we recommend the Regal Envy detangler. A detangler is best for brushing your hair as it gently removes tangles without pulling on the hair, making it less likely to pull out the hair extensions. Begin by brushing the bottom of your hair and then working your way to the top. When you reach the top, run your fingers between the rings to ensure the hair is not wrapped around them. If you have just washed your hair, we advise using a wide-tooth comb to brush out those extensions.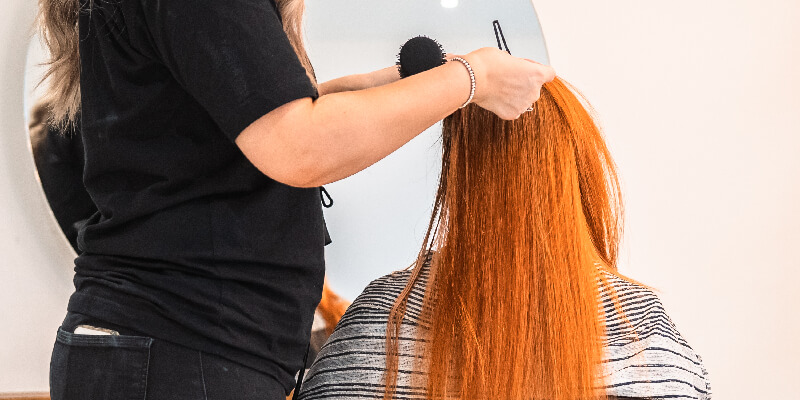 You've probably been told multiple times that a heat protector is any extension enthusiast's best friend but have never actually gone out to get some! If you style your hair with heated tools, whether that's a hairdryer or curling wand, you should always apply a heat protector to the hair. A heat protector acts as a layer between the hair follicle and the heat being applied, minimising the damage caused to your luscious locks. Alternatively, we would advise trying out some overnight hairstyles or updos that can be used to style your hair instead of using heat, as this can help to give your hair a break.
Tailoring your aftercare to the specific type of extensions you have is crucial for maintaining their longevity and keeping your natural hair and extensions in the best possible condition. Different hair extensions, from clip-ins to weaves, have distinct care requirements. Using the wrong aftercare routine can lead to damage, tangling, or even premature shedding. Let's explore the tailored aftercare strategies for various extension types, allowing you to enjoy your new hair to the fullest!
Clip-in Extension Aftercare
Clip-in extensions are designed with a simple clip mechanism at the tip, enabling them to be seamlessly slotted into your natural locks. The clip lies flat against your scalp, meaning that these extensions are virtually undetectable and do not prevent you from lying down, though we recommend that you don't make a habit of sleeping with them in!
Since you can easily remove and reapply clip-in hair extensions yourself at home, we recommend removing them and shampooing, conditioning, and brushing them separately from your natural locks. This will give you a better view of your work and make the task far easier!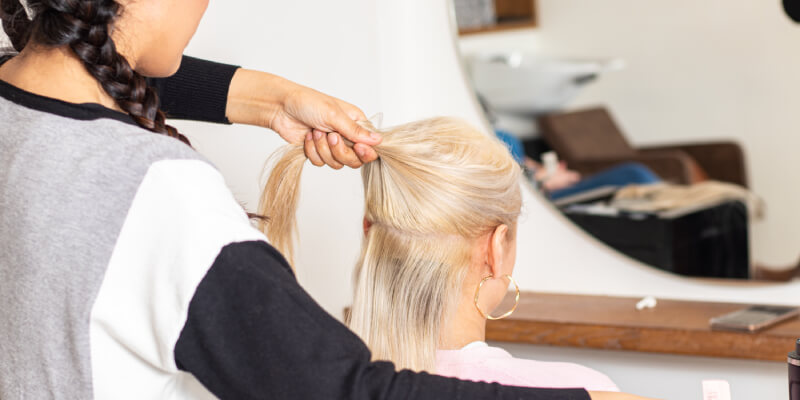 Weave Extension Aftercare
At our hair extension salon in Milton Keynes, we offer the LA Weave, a hair extension method inspired by the traditional weave. In this method, weft extensions are sewn into the natural hair and secured by micro rings. Since this method requires no heat or glue, it is not damaging to the hair. The tight braids of a traditional weave may protect kinky hair but can be damaging to non-kinky hair, which is more suited to the LA weave.
Since the weight of the hair extensions is distributed around the circumference of the scalp, the LA weave is the gentlest hair extension method and requires very little maintenance to protect your hair, both natural and extensions. Just follow the advice in this article, and you'll have beautiful, luscious locks for months!
Bonded Extension Aftercare
Pre-bonded hair extensions are a traditional type of extension bonded to the natural hair with keratin bonds, which are heated to seal them to the natural hair. Unlike other glueing methods, keratin bonds cause no damage to the hair and are quick and straightforward to remove. Pre-bonded extensions are incredibly subtle and allow you to wear your hair up without giving away the secret to your thick, luscious locks! They are also very lightweight, which is suitable for those with hair that is too thin or fragile for micro ring extensions.
This type of extension is very resistant to slipping, making it low maintenance and perfect for those who are always on the go! However, this does not mean you can slack off when washing and caring for your hair! While it is important not to allow the scalp to become greasy since this can soften keratin bonds, overwashing will also harm your extensions. As mentioned previously, you should use a sulphate-free shampoo because sulphates can also break down the keratin bonds. Be gentle when brushing and washing hair to avoid causing breakage, and take care to separate the bonds with your fingers daily to prevent tangles and matting.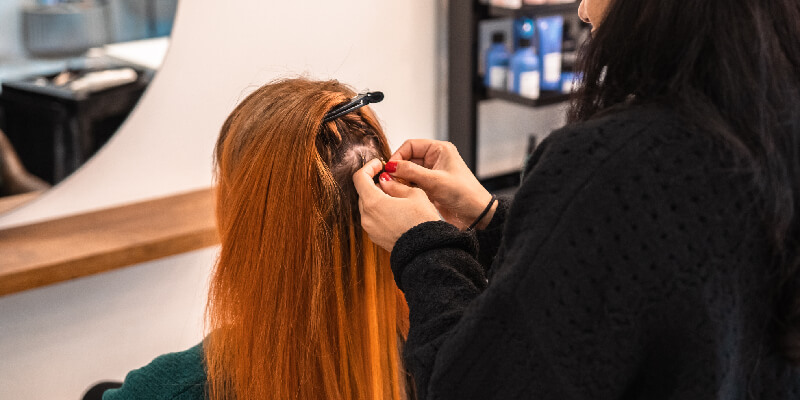 Micro Ring Extension Aftercare
Micro ring extensions are extremely popular at our hair extension salon in Milton Keynes, as they are virtually undetectable once applied, even when your hair is in a ponytail. They are attached to the hair by small copper rings with silicone linings clipped around the natural and extension hair. Since this type of hair extension requires no glue, heat, sewing, or braiding, damage to your natural locks is minimised.
Caring for micro ring extensions is relatively straightforward. We would recommend that you take extra care not to apply conditioner or hair oil too close to your roots, where the copper bonds are located, as this can cause them to slip over time. Taking care to brush out your hair properly is also essential to prevent your hair from getting tangled up with the bonds. As stated earlier, it is best to use a specialist extension brush. Much like bonded extensions, you should also separate the bonds with your fingers daily to prevent tangling and matting!

Unfortunately, there does come a time when you will have to remove your hair extensions. Knowing how to remove extensions safely is of utmost importance to maintain the health and strength of your natural hair.
If you have fitted extensions, such as micro rings of a weave, you must avoid trying to remove these at home. We always recommend that our clients visit our hair extension salon in Milton Keynes, as our team has the knowledge and experience to remove bonds without damaging your natural locks.
For this with clip-in extensions, on the other hand, these can, of course, be removed at home as most refit their clip-ins each morning. Here are some of our top tips for removing your clip-in extensions:
Make sure your hair is tangle-free: If your hair is matted or knotted, it will make it difficult to remove your clip-in hair extensions without pulling your roots and causing damage. Make sure to safely brush with a tangle teaser before removing the extensions. Start at the bottom and work your way to the top to ensure the hair is smooth and silky. You can also use a detangling spray to speed up the process.
Section your hair: To feel in control of the removal process, section your hair and work on one at a time; this will make it easier to see what you are doing. Once you have found a clip, you can use one hand to secure your natural hair, and as you lift, use the other to slide the extension out of your hair.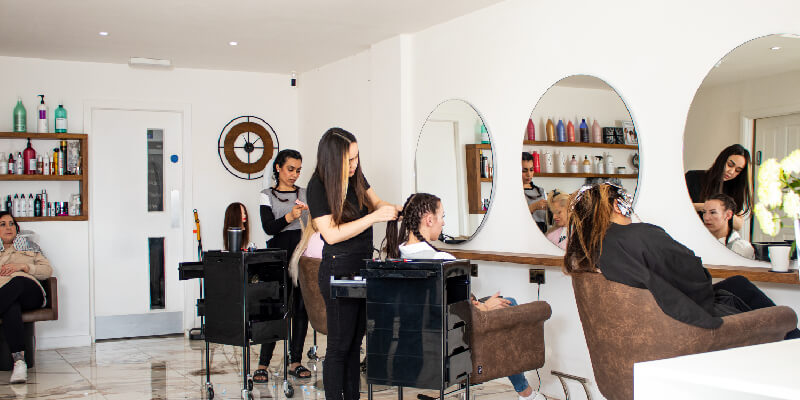 At our reputable hair extension salon in Milton Keynes, we take great pride in delivering exceptional results to our clients. One of the cornerstones of our service is our unwavering commitment to utilising only the highest-quality and most beneficial hair care products. Choose from our selection:
Argan oil hair treatment: Indulge your hair with the luxurious benefits of our premium Moroccan Argan Oil. Not only does it nourish your hair, but it also provides exceptional protection against frizz and brittle ends. Our Moroccan Argan Oil works tirelessly as a leave-in product to hydrate and rejuvenate your hair, bestowing it with a renewed radiance that lasts until your next wash. The result is hair that feels irresistibly soft, smooth, and full of vitality. For fitted hair extensions, only apply this to the ends of your hair, as applying to the bonds and roots will risk them slipping.
Extension boost: Designed specifically for extensions, this product maintains that fresh-out-of-the-salon look while adding a brilliant shine. Using it bi-weekly will allow for a deep, restorative treatment that softens your extensions and keeps them soft without compromising their rich colour. No matter the type of extension you have, this product is perfect for you – ensuring flawless hair and extending the lifespan of your extensions!
Silk hair wrap: We spend a lot of time in bed, which can affect how our hair feels and looks. The materials of pillowcases and bed covers can wreak havoc on your hair, leading to frizz and dryness. This innovative, game-changing solution ensures a protected and comfortable night's sleep, promoting healthy and strong locks. It protects from breakage and promotes enhanced hair growth whilst minimising the risk of split ends and embracing the perfect blend of style and functionality.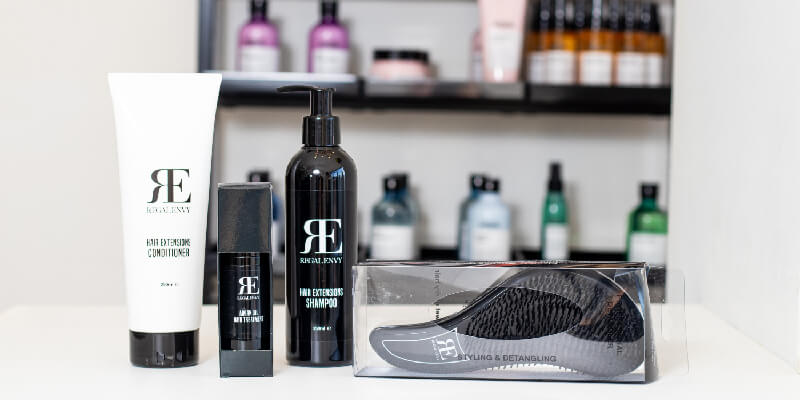 Keep Your Locks Maintained
Healthy-looking, glossy locks can be the secret to unlocking your confidence, so it's important to make sure that you maintain them properly to keep up that wonderfully glamorous feeling. We hope that the tips in this article have equipped you with the knowledge you need to properly maintain your extensions, from which products to buy to the right techniques to use when washing your locks. Follow our advice and book regular maintenance appointments, and you'll have the stunning head of hair of your dreams.
If you are interested in getting hair extensions in Milton Keynes, why not get in touch with our team of award-winning stylists today? If you're wondering how long your extensions will last and how you can make them last longer, you can check out our previous article for our professional top tips and advice!
Get Started With Lacy Locks!
Share your details with us, and let's explore the world of endless hair possibilities.