'Tis the season to be stylish! The christmas season is upon us, and with it comes a calendar full of festive gatherings and celebrations. From work parties to family dinners and celebrations with friends, there's no shortage of chances to show off your holiday spirit and, of course, your fabulous hair!
Our hairdressers in Milton Keynes understand that planning different outfits and hairstyles for each event can be a daunting task, especially when you want to ooze that perfect blend of festivity and glamour. That's why we have compiled our favourite 7 christmas hairstyles to save you from stressing last minute!
Get Glam This Festive Season With Our 7 Christmas Hairstyles
No doubt, you've probably been daydreaming of the perfect hairstyle for your christmas party, but have no fear, our experts at our hair salon in Milton Keynes are here! With our extensive expertise and knowledge, we've pieced together our top choices into one article for both long and short hair, ideal for you to scroll through and find your favourite hairstyle!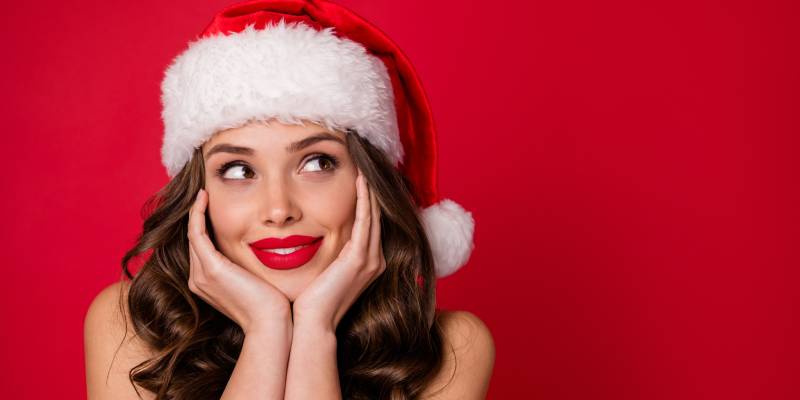 Luckily, for you ladies with long locks, or for those of you who have indulged in our array of different hair extensions in Milton Keynes, it may be easier for you to experiment with various hairstyles, no matter the texture or thickness of your hair.
When it comes to Christmas hairstyles for long hair, we've collected an array of styles that not only embrace versatility and customisation but are also remarkably simple and quick to achieve on your own. This means you can get out the door looking effortlessly flawless without spending hours in front of the mirror!
Plaited Ponytail
Unleash your inner Elsa with this festive hairstyle, designed to be not only extremely easy to do on yourself but also highly versatile. You can choose from various plait styles, such as a casual Dutch braid or an intricate fishtail plait, then opt for a high or low pony – the options are endless! We recommend pulling a few face-framing pieces out of the front and curling these for an effortlessly glam look.
Elevate your plaited ponytail by dressing it up with some gorgeous clips and christmas pins for an extra touch of holiday magic. Why not opt for a different sparkly snowflake pins or even a festive red ribbon around the end of the plait?
If you're short on inspiration, we absolutely love this braided Christmas ponytail tutorial from Abby Hoskins:
Low Bun
The low bun is perfect for any outfit, whether you're attending a dressy, glamorous Christmas party or a more relaxed celebration. Opting for a touch of messiness with a loose, undone bun will allow for a voluminous and fuller look, creating the illusion that your hair is thicker than it is. This style is a great canvas for accessorising with statement earrings and makeup to elevate this style into an elegant and stylish look.
If you prefer that "clean girl" aesthetic, then a sleeker ballerina bun will be your go-to. Add a festive touch to your look with some stick-on crystals or pearls, transforming the hairstyle into a sophisticated and stylish up-do, perfect for dressing up a plainer outfit.
Whether you decide to go for a fuller, voluminous look or a sleek, polished finish, this hairstyle offers endless possibilities to showcase your personal style and embrace the festive spirit.
Half Up, Half Down
Cute, stylish and straightforward, this style is ideal for those with limited time or styling skills. Its versatility shines through the fact you can choose to have your hair straight, curly or wavy, depending on your style and outfit. To add a touch of festivity to this hairstyle, embellish it with a gorgeous festive red ribbon tied around the ponytail to elevate its overall look!
Once again, the beauty of this adaptable style lies in its ability to effortlessly transition from casual to more polished looks, making it a go-to choice for various occasions. The hairstyle can easily be tailored to your choice of style; whether you go for a messy or sleek hairstyle will determine the overall look of your outfit. Our experts in hair extensions in Milton Keynes also love tying in some hair tinsel to add a shimmer of holiday glamour to your flowing, long locks, infusing your hair with a festive sparkle and standing you out in the party crowd!
Brushed Out Waves
If the aesthetic for your Christmas celebrations is dress to impress, then you simply cannot go wrong with classic Hollywood glamour courtesy of brushed out waves. Easy to create using a wide-barrelled curling wand, the secret is to hold the hair in place until it cools. This will ensure that your curls stay voluminous all night long. For a timeless look, brushed-out waves are best with a side parting with the curls positioned away from your face. You could even sweep the thinner side of your hair towards the back with a sparkly hair slide!
For a full step-by-step guide on how to create Hollywood waves, watch this fabulous tutorial by Harry Josh:
While your hair may be shorter and a little trickier to get into an updo, it most definitely doesn't mean that you have to say goodbye to those glam, festive hairstyles. Our hairdressers in Milton Keynes have a toolbox of short hair Christmas hairstyles that are super easy to recreate yet promise maximum impact. Just some of our favourites include the following:
Pin Back With A Festive Pin
Whether you're attending a holiday party or a more casual gathering, this effortlessly chic and stunning look ensures that you stand out with grace and style. Embrace the season's magic with a hairstyle that oozes both simplicity and sophistication, making you feel beautifully embellished for the festive celebrations. This look creates a half-up, half-down effect without the fuss of meticulously parting or dealing with getting your hair into a ponytail. Instead, take two large front pieces of your hair, or gather your hair in the classic half-up, half-down-look and pull them away from your face. Bring these sections to the back of your head and secure in place with a stunning christmas pin. This style requires minimal effort and delivers a small statement with a significant impact, leaving you feeling extra elegant and festive. We recommend this gorgeous black bow with a statement sparkle drape from Next to add a touch of seasonal flair to the hairstyle!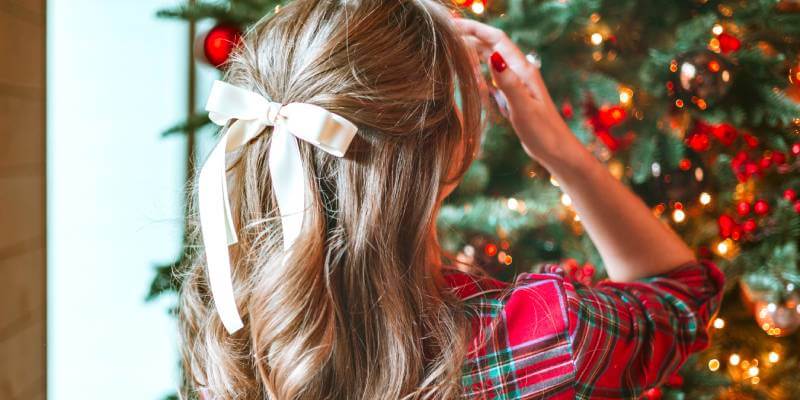 Braided Tiara
With this festive hairstyle, you'll be able to achieve the allure of pretty braids without the hassle of plaiting all of your hair and stressing about any flyaways and star hairs sticking out of the plait! Take two front sections of your hair and delicately braid them away from your face; again, bring them towards the back of your head and secure them in place. This technique not only imparts a touch of bohemian elegance but also will help you exude festive cheer! For those who prefer an alternative to plaiting but still desire the same impact, why not instead twist the two sections backwards for a pretty and easy hairstyle which offers a graceful and uncomplicated alternative?
60's Flip
This timeless look was tailor-made for all you short-haired ladies. The iconic and simple '60s flip has transcended the decades and been adored for many years. It still has a lasting impact on the fashion world today, so why not take inspiration from the swinging sixties and impress your guests with this gorgeous hairstyle, ideal for any christmas parties and events you have planned? Simply grab your thick curlers or straighteners and, let them work their magic to your hair, twist the ends of your hair upwards. The versatility of this style allows you to make it as dramatic as you wish; you could even turn it into a playful bubble flip for added flair. The elegance and glamour of this hairstyle make it a perfect choice for the festive season!
Which Of Our Christmas Party Hairstyles Will You Choose?
Now that you're well-acquainted with our top christmas hairstyles, you can confidently enter your festive celebrations and christmas parties feeling fabulous. Tick off every event on your calendar, knowing your hairstyle is on point and effortlessly suits your outfit of choice.
As always, if you would prefer to sit back and relax this party season and leave the hairstyling to the experts, we're just a phone call away. Our hair salon in Milton Keynes is open in the lead-up to Christmas and taking bookings, whether you want a glamorous, bouncy blow dry or beautiful updo. Feel free to contact us today to schedule an appointment.