There are now an array of different hair extension methods that suit some hair types more than others. While it's helpful having different extensions to ensure maximum results, it can become tricky to know which ones are best suited to you. Before contacting the Lacy Locks team to book in for a consultation, why not take a look at our comprehensive guide to 'what type of hair extensions are right for me?'
What Type Of Hair Extensions Are Right For Me? A Lacy Locks Guide
Lacy Locks has been providing clients with high-quality hair extensions in Milton Keynes and the surrounding areas for many years, ensuring that every client walks out of their appointment with luscious locks they have always dreamt of. Clients needs, requirements and hair vision are always taken into consideration before finding the best hair extension solution. There are several things that you need to think about before having extensions fitted, and these considerations will determine which extension type is best suited for you.
It is always important to think about your desired outcome, whether it be thick and voluminous hair, or long luscious locks. The reason for this is because some extensions are best suited to naturally thick hair while others a more suited to thinner hair due to their lightweight components. If you wish to grow your natural hair, then it is important to ensure that the extension type that you choose will not damage your hair during application or removal. The different types of hair extensions that you can opt for include: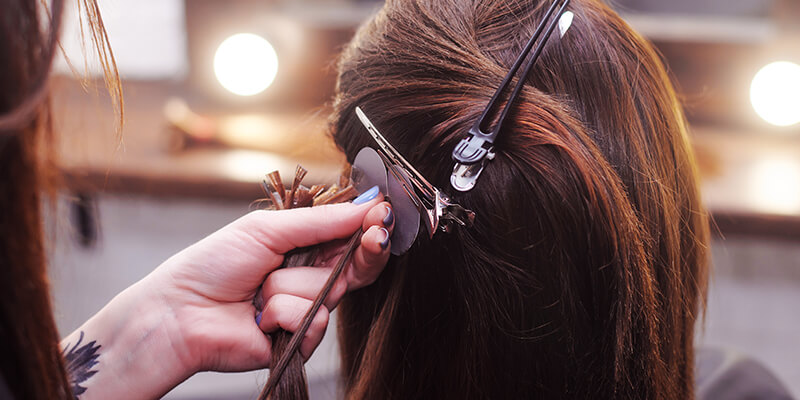 LA Weave
Application Time: 45 Minutes – 1 Hour
Bond Type: Micro Rings
Lifespan: 8-10 weeks
Ideal Hair Type: Most Hair Types
The LA Weave is a new innovative hair technique that can give you a natural look that has been perfectly colour matched to your natural hair. Using a similar application to the traditional weave, this new and improved method provides you with discreet results with an impact. LA Weave hair extensions are applied within 45 minutes, and can easily be removed within 15 minutes, making it one of the fastest hair extension methods available. This makes it ideal for those that wish to have luscious locks, but do not have the time to spend 2-3 hours on the application.
Due to the no bond, no glue, no heat and no plaits application, the LA Weave is the perfect solution for various clients wishing to achieve their dream hair without damaging their natural locks. For those that wish to grow their natural hair but just can't wait for their locks to grow, LA Weaves provide you with length that doesn't pull, which is ideal for those with thinner hair. The LA Weave provides a voluminous and full look and is applied by sewing a weft strategically into the hair to hide the micro rings. It is also measured to fit your scalp, giving you an even distribution of weight.
Maintenance of the hair is only required around every 8 to 10 weeks, making it a cost-effective solution to achieving your dream hair. At Lacy Locks, you can opt for our 0% finance option, so that you can repay for your extensions over a set period of time. Not only is paying for the LA Weave more affordable, but the hair used is 100% natural, giving you a seamless finish every time. This hair can be reused during your maintenance appointments for around six months, providing that you take care of your hair, making them cost slightly less than a full reapplication. Being trained by the creator of the LA Weave, Lacy Locks specialises in this extensions type and is more than happy to advise you on whether your hair is suitable for this technique. Please feel free to contact Lacy Locks for LA Weave hair extensions in Milton Keynes or the surrounding areas.
Micro Ring
Application Time: 1.5-3 Hours
Lifespan: 6-8 weeks
Ideal Hair Type: Medium To Thick Dark Hair
As a technique that has been used for some years now, the micro ring hair extension method brings clients natural results through the use of copper rings with silicone lining. The use of the silicone lining will help to protect your natural hair allowing it to grow to your desired length. The rings come in different sizes to cater to various types of thickness, making it easier to achieve your desired look. During your maintenance appointment, the rings will be moved up the hair, allowing you to reuse the hair again and again.
Micro rings are applied to the root of the hair and laid flat on the scalp to be almost undetectable to the naked eye. No adhesives are used during the application process, meaning that it is less likely to damage your hair. Some advantages of using micro ring hair extensions include:
Easy application
No damaging products are used
Creates volume
Can be applied in sections – e.g. only to the lower half of your scalp
Is virtually undetectable when you have your hair up
Many of our clients ask for micro ring hair extensions in Bedford due to their ability to create natural luscious locks along with other advantages. Unfortunately, micro rings are best camouflaged in thicker and darker hair, so we would always advise clients to take every method into consideration before having extensions fitted. Most clients wishing to have hair extensions in order to grow their natural hair are advised to use micro rings, as it allows the hair to grow without pulling or damaging it.
Nano Ring
Application Time: 2-4 Hours
Lifespan: 10-12 weeks
Ideal Hair Type: Fine To Medium Thick Hair
Much like micro rings, nano rings are undetectable and perfectly matched to your natural hair colour. These rings are about 90% smaller than the usual rings used for hair extensions, making it ideal to fit onto thinner hair due to the lightweight application. Although it is one of the longer extension methods, it is well worth the time in precisely applying the extensions for that natural look.
The small rings will give you a lot of freedom to style your hair as you wish, whether you like to show off your locks or pop your hair up into a ponytail, the rings will be practically invisible. As long as you commit to regular maintenance appoints around every ten weeks, the rings should never be visible, as the rings will be adjusted and moved further up the hair as your natural hair grows. Most of Lacy Locks clients asking for nano ring hair extensions in Bedford, are aiming to achieve thicker and fuller hair, rather than just long hair. This is easily accomplished with nano rings, as the hair can be placed in quarter sections to achieve your desired thickness.
Pre-Bonded
Application Time: 1.5-3 Hours
Lifespan: 6-8 weeks
Ideal Hair Type: Most Hair Types
Pre-bonded hair extensions are one of the most used and traditional hair extension techniques, with most hair technicians providing this service. While in the past, pre-bonded hair extensions used damaging glue, new and improved techniques use Keratin glue. Keratin glue contains natural proteins that enrich your hair when applied with a heat connector; this means that while there is heat and glue applied to your hair, it is significantly less damaging.
If you are looking for a discreet hair extension then the pre-bonded technique is probably one of the best options. Due to there being no braiding or rings, it means that you are free to wear your hair how you wish without the extensions being obvious. The only downside to pre-bonded hair extensions is that the reapplication process takes slightly longer to ensure that your hair is not damaged when the extensions are removed.
The removal of pre-bonded hair extensions is carried out around every eight weeks using a removal solution. Removal should always be carried out by a professional, ensuring that your skin is protected. Each section of the hair where the extensions have been applied will be carefully crushed to break down the bond before removal solution is added to the area. This is why pre-bonded hair extensions take slightly longer to remove, as a delicate process is carried out to ensure your natural hair is protected.
Tape Hair Extensions
Application Time: 1-2.5 Hours
Lifespan: 6-8 weeks
Ideal Hair Type: Medium To Thick
The application process for tape hair extensions requires a weft that is colour matched to your natural hair to ensure that the extensions are completely discreet. Wefts are placed at the root of the hair, using a 'sandwich technique' for a seamless finish. The materials that are required to create this look are extremely flexible, easy to wash and has the ability to be styled how you wish.
Whether you are looking to add some volume or length to your hair, the tape hair extensions are perfect for creating your desired look. The lightweight properties of the extensions and the weft, means that they are less damaging to your hair, and gives your hair the chance to grow. Tape-in extensions come with multiple benefits, some of which include:
Last long – tape in extensions are made with strong adhesives, which allows you to have the hair in for much longer than other forms of extensions.
Easy maintenance – rather than having to clip in extensions every day, tape in hair extensions are ready for you as soon as you wake up.
Discreet – extensions are almost invisible when placing your hair into a ponytail or braids.
Can be worn anywhere – you can wear tape-ins at the gym or in the swimming pool, making it more practical to continue your favourite activities.
Invisi-Weave
Application Time: 1-2.5 Hours
Bond Type: Nano Rings
Lifespan: 6-8 weeks
Ideal Hair Type: Medium To Thick
As the name suggests, the invisi-weave is an invisible form of the traditional weave. However, the technique is a little more difficult and can sometimes take a little longer, depending on how thick you wish your locks to look. This method is completed with a full weft that is placed onto the scalp using nano rings. The rings are clamped together in order to keep the weft in place, creating a natural finish with a thick and voluminous look.
Much like the other hair extensions available at Lacy Locks, invisi-weave extensions gives you the freedom to style your hair how you wish. Most of our clients ask for the invisi-weave for longer hair, rather than thicker hair, as other methods such as micro-rings are more ideal for creating thickness without damaging your hair. However, this new and improved method of hair extensions, provides clients with an innovative and discreet method of achieving their dream hair.
Invisi-Tape
Application Time: 1-2.5 Hours
Lifespan: 6-8 weeks
Ideal Hair Type: Medium To Thick
As you can probably guess by the name, the invisi-tape hair extensions is a different way of mimicking your natural hair through the use of the tape in technique. Invisi-tape extensions are one of the most discreet hair extension type, and has only recently become a beloved technique. This form of extension can add both volume and length to your hair, depending on what you wish to achieve, and are perfectly colour matched to your natural locks.
Giving your hair the luxury feel invisi-tape hair extensions provide you with exceptional results by applying transparent tape to the roots of your hair. This method is extremely easy and quick to fit, making it one of the quickest applications alongside the LA Weave. Other benefits include:
Lightweight properties
Waterproof tapes
Low maintenance
Not damaging to your natural hair
Reusable
Practically invisable
View this post on Instagram
Booking In Hair Extensions
It can be hard to know what type of hair extension is best suited to your desired outcome and the hair type that you have. With the vast amount of different hair extension types, you are bound to find one best suited to you. Here at Lacy Locks, we will always provide clients with the pros and cons for each hair extension for their hair type, and advise them on the best extension method to achieve their goal. If you would like to know more about these extensions, find out more about which one may be best for you, or book in for an appointment, then feel free to contact the Lacy Locks team today.