Your hair can significantly impact your confidence, whether you like it short and bouncy or long and luscious. When your hair begins to thin, or regrowth has slowed down, it can drastically knock your confidence and affect how you look and feel about your appearance. Not only is this frustrating as patches of your hair seem thicker than others, but it can also make it hard for you to achieve your desired hairstyle and updos. If you are wondering 'what is the best hair loss treatment for females?', hair integration systems may be the perfect solution for you. These systems make it exceptionally easy to achieve thick and luscious hair without pulling or damaging your existing hair.
Hair integration systems are a great way of creating the same effect as hair extensions for those with extremely fine, fragile and patchy hair. The mesh integration system is one of the best hair loss treatments for women suffering from hair loss or thinning, making it the perfect solution for helping to bring back your confidence.
Ready To Up Your Hair Game?
Sign up for expert hair advice, tips and inspiration!
The Best Hair Loss Treatment For Females: All You Need To Know
As specialists in hair loss solutions in Milton Keynes, and having spent many years perfecting techniques, the Lacy Locks team can provide you with the hair you have always dreamt of, even if you think it's almost impossible to achieve. The great thing about mesh integration systems is that they can be applied to even the finest of hair, meaning that your perfect locks are just a phone call away.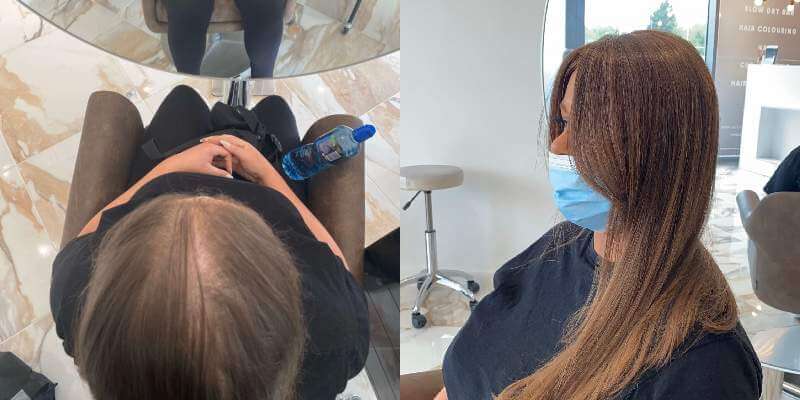 Success Story – Mesh Integration System Transformation
Women may experience hair loss when suffering from conditions such as alopecia and thyroid disease, or in some cases, it may be heredity. Temporary hair loss can even be caused by stress, depression or the menopause. All of these causes of hair loss in women can result in diminished confidence, self-esteem and sense of identity. This is why it's so important that, should you find yourself being negatively impacted by your hair loss, you are aware of the options that are available to help you regain your confidence.
As professional hairdressers in Milton Keynes, we can confidently say that mesh integration systems are undoubtedly the best hair loss treatment for women. These systems have been specifically designed for those with little or weak hair that is too fragile for hair extensions. While lightweight micro and nano ring extensions will not affect most clients, for those with delicate, thinning hair, extensions will pull on the strands, potentially pulling them out.
However, thanks to mesh integration systems, this does not mean that you are unable to achieve the look and style that you've seen your favourite celebrities rocking on the red carpet.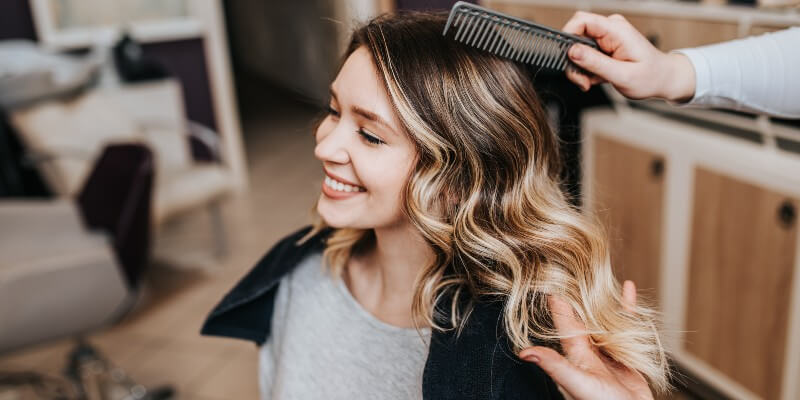 What Is A Mesh Integration System?
Our mesh integration is the perfect option for those that have bald patches due to hair loss or extremely fine hair. These systems act like an advanced and longer-lasting solution to a wig, providing you with flawless results by using a breathable mesh. This means that the material is lightweight and comfortable to wear without feeling heavy or tight to the head. Not only this, but the hair can be cut to your desired length, and you can continue to wash and style your hair as normal.
To first apply the system to your hair, the mesh is cut and shaped bespoke to you, ensuring that it fits perfectly and that the mesh is not visible to the eye once the hair has been applied. The mesh is fitted directly above the scalp for a seamless finish, and the hair is then woven into it. The mesh integration system will remain temporarily attached for around two months, and all you will need to do is book in for maintenance appointments thereafter.
What Is A Crown Volumiser?
One form of mesh integration system is a crown volumiser, whereby this method is incorporated into your crown to create the illusion of thicker hair. This makes this solution ideal for those with hair loss in the crown and frontal areas only. The system will give the illusion of thicker and fuller hair on the top part of the head, giving you those seamless results you have always dreamt of. The hair used within the system can also be perfectly matched to your natural locks to ensure that the system is completely invisible to the naked eye.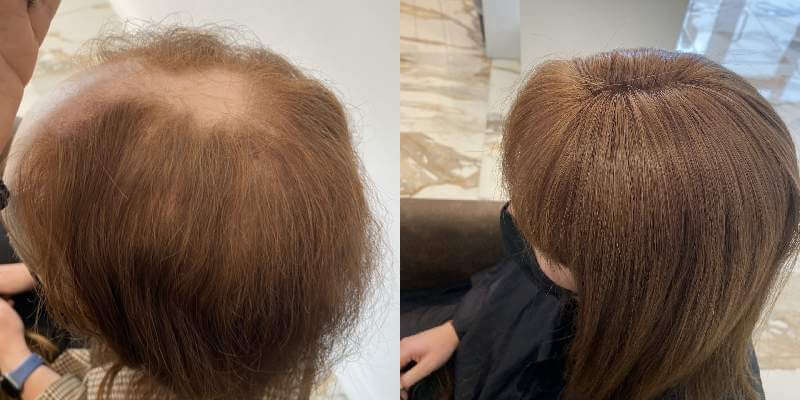 Success Story – Mesh Integration System Crown Transformation
Other than the fact it provides you with the confidence you have always dreamt of, there is also an abundance of other benefits you can take full advantage of when having a mesh integration system. Once a solution is incorporated into your scalp, you'll wonder why you never had the treatment before. From long-lasting results to easy maintenance, there are many reasons why you will enjoy your new luscious locks.
Made For You
As mentioned previously, our hair loss solutions in Milton Keynes are designed with you in mind. This means that the mesh comes in one size, which the team will then perfectly mould around your scalp to form a seamless finish. Your desired look will first be discussed in an initial consultation with our team, who will talk you through expectations and outcomes. What you wish to get out of your hair loss treatment will determine how the team finish your hairstyle.
Once the hair has been applied, you are then free to cut and colour the hair how you wish. You can choose to match the hair colour to your existing locks, or you can try something new and go for a bold shade. Whatever you choose, the Lacy Locks team are able to achieve this within the same appointment so that you can enjoy your new head of hair from the moment you walk out of the salon. The Right Hairstyles has a selection of stunning subtle and extravagant hair colours for you to give a go.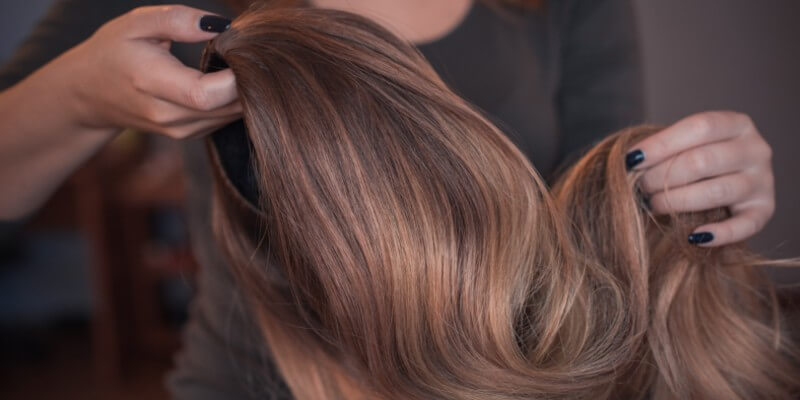 Looks Like A Natural Scalp
One of the most common questions our clients ask is whether the hair loss solution is visible and if people will be able to notice the mesh or that the hair is not their own. Firstly, unlike many wigs and cheap clip-in hair extensions found online, all hair used by Lacy Locks is 100% human hair, which allows us to mimic your natural locks to give the illusion that the hair is your own.
Secondly, the mesh is perfectly colour matched to your skin tone, so it is incredibly hard to tell the system is in your hair. Not only this, but the Lacy Locks team have years of experience in providing this treatment, so they can seamlessly integrate the solution into your hair to give it a natural appearance. The hair and mesh will create a scalp, so every part of the system looks as though it is your natural hairline and hair.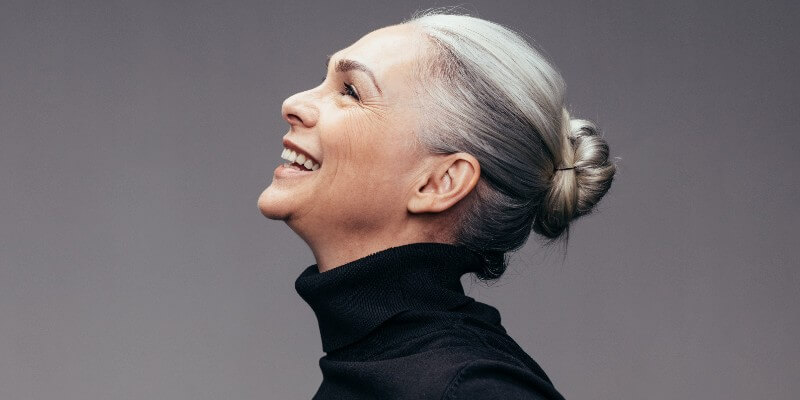 Wash & Style Like Normal
After having your mesh integration system applied, you will need to leave your hair for three days before washing. However, after this, you are able to wash and style your hair as you would your natural locks, which means that you can use shampoo, conditioner, oils and heat protectors. As the hair will be 100% human, it means that you must take care of the system as you would your natural hair, ensuring that you protect it from heat styling and use products that nourish and shield the hair.
At our hair salon in Milton Keynes, we always advise our clients on specific products to use for their extensions, such as shampoos specifically designed for hair extensions and mesh integration systems, which you can find on Regal Envy.
Additional haircare advice that we would give you to keep your solution looking pristine includes:
Long-Lasting Solution
Unlike a wig that is likely to lose its shape after a few wears, mesh integration systems are long-lasting. The system and the hair can last up to 12 months depending on how well you care for it using the advice above and tips given to you by our hairdressers in Milton Keynes. Much like you would book in for a haircut every 6-8 weeks, you will need to book in for maintenance appointments to ensure that your system is well kept and maintained. By doing this, you can ensure that your system will last for a whole year, and you can enjoy its full effects over and over again.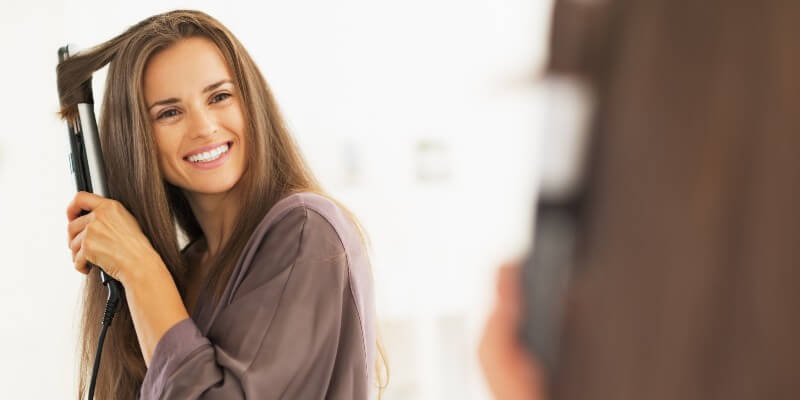 Many of our clients like to have a hair loss system integrated while they grow their natural locks. This is also a common reason for our clients to have hair extensions. Luckily, there are numerous hair growth products for women that can help you to grow your hair and prevent further hair loss while the system is in place. Some tips on how to prevent hair loss in women include:
Avoid restrictive diets
Restrictive diets can limit your intake of essential nutrients which are vital for hair health. It is very important to ensure that you are eating enough calories each day and that you try to include a wide variety of foods in your diet to maximise the amount of nutrients that you are consuming.
Take vitamins
If you find that you cannot get enough of certain nutrients from your diet alone, you should consider taking supplements to ensure that your needs are being met. Deficiency in vitamins C, D, E and omega-3, as well as minerals zinc and iron, can result in weakened hair that may fall out. Before you start taking any dietary supplement, it is imperative that you discuss this with your doctor, as consuming too many vitamins and minerals can also be detrimental to your health.
Avoid colouring the hair
Bleach, hair dye and other harsh chemicals can weaken your hair, causing it to thin and potentially even fall out. In order to preserve the health of your hair, you may want to avoid bleaching or dyeing your hair completely, or at least keep it to a minimum. You should also use nourishing products between dyeing sessions, such as hair masks.
Try caffeine hair products
Surprisingly, the same substance that wakes us up in the morning is known to promote hair growth: caffeine hair products stimulate hair growth from the follicle by targeting DHT, a hormone which triggers hair loss by interfering with the vitamins, proteins and minerals that help your hair to grow.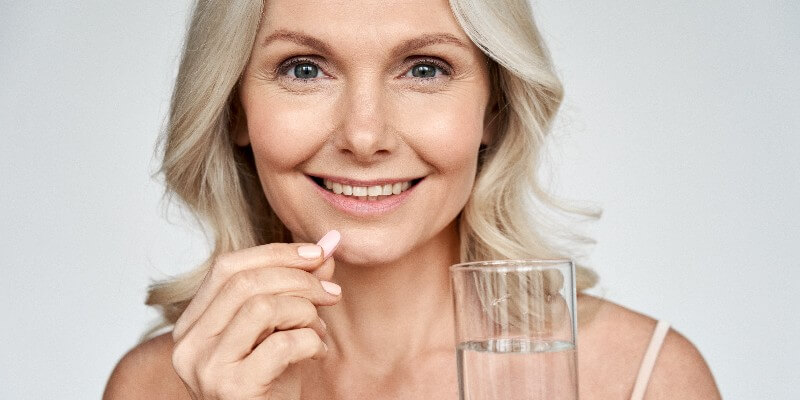 Build Your Confidence With Revitalised Hair
No matter how much you style your hair or try something new, if you don't feel happy or confident with your look, then it may be time to speak to our team. Whether you are looking for a new set of hair extensions to add some length to those locks or require hair loss solutions in Milton Keynes, our team are always here to help. Our aim is to have you looking and feeling your best, and we will always work with you to create a bespoke look that you love. This is why our systems and hair extensions are customised with you, by you, ensuring that the colour and cut are perfect while providing you with the length and volume you have always dreamed of. If you would like to give our mesh integration systems a go, then please feel free to speak with our team and book in a consultation to discuss how the solution works and transform those locks!
Book A Consultation Today!
Leave your details below and you'll hear from us shortly.